CBP welcomes new Director of Field Operations, Tucson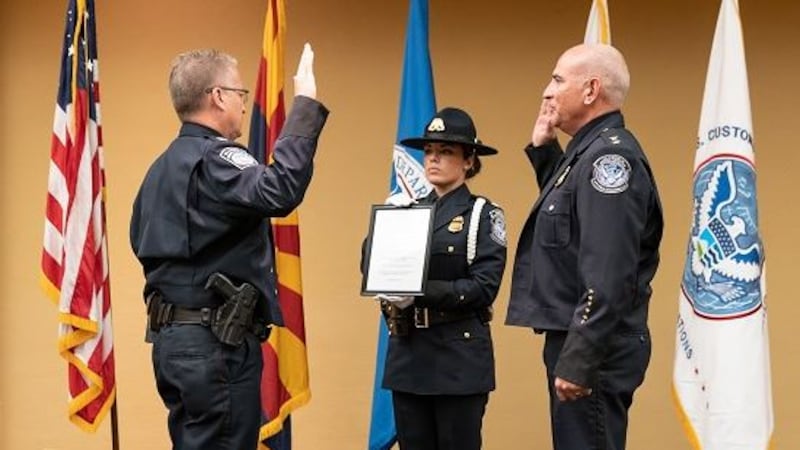 Published: Apr. 19, 2019 at 4:38 PM MST
TUCSON, AZ (KOLD News 13) - U.S. Customs and Border Protection, Office of Field Operations, welcomed its newest Director of Field Operations (DFO) Guadalupe Ramirez Jr. A Change of Command ceremony was held Thursday, April 18 at the El Conquistador Hilton Resort where Randy Howe, Executive Director of Operations (XD), presided over the ceremony that formally recognized Ramirez as the Director in Tucson, Arizona.
DFO Ramirez succeeds William K. Brooks (deceased), the previous Director of Field Operations, who had retired after a long and successful government career.
"It is my honor to be able to serve as the Director of Field Operations for the Tucson Field Office," said Ramirez. "The strength of any operation is its people and I have inherited one of the best teams in field operations. Clearly, this is a direct result of my predecessors and dedication of our personnel."
DFO Ramirez is responsible for all operations and enforcement activities at eight international ports of entry in Arizona. He manages more than 700 CBP officers, Agriculture Specialists, Import and Mission Support specialists, and other support staff. Arizona ports of entry processed 25.2 million travelers, 8.8 million private vehicles, 470,000 commercial conveyances (truck and rail), 6,934 commercial aircraft arrivals, and 3,719 private aircraft arrivals. The Tucson Field Office annually facilitates $23.6 billion in international trade and collects $30 million in revenues.
He brings 30 plus years of federal law enforcement experience. He served since 2016 as the Trade, Assistant Director, where he oversaw Trade and Agriculture operations within the Tucson Field Office. Ramirez previously served as the Area Port Director of Nogales, Arizona from 2009 to 2016.
Ramirez's earlier assignments included: Assistant Port Director at the Port of Laredo in Texas and as the Port Director of Santa Teresa, New Mexico. Earlier assignments included Office of International Affairs, Customs Advisor, Trinidad & Tobago, Customs Advisor, U.S. Embassy in Venezuela and International Trade Specialist, Office of International Trade, Strategic Trade Center, Dallas, Texas.
He began his government career with the U.S. Border Patrol, as an agent in Eagle Pass, Texas in 1985. He joined the legacy U.S. Customs Service as an Inspector at El Paso, Texas in 1987 and was promoted in 1992 to Supervisory Customs Inspector (Instructor) assigned to the Federal Law Enforcement Training Center, Glynco, Georgia.
CBP Field Operations in 2008 adopted formal change of command ceremonies as another way to unify the workforce and highlight the agency mission. Since its inception in March 2003, CBP has developed and implemented standards, policies and symbols to advance the internal and external recognition of the agency and to demonstrate the strides the agency has made as the guardians of the nation's borders. The change of command ceremony is designed to meet those goals.
Copyright 2019 KOLD News 13. All rights reserved.