Tucson teens tackle plastic problem with Blue Saguaro campaign
Updated: Jul. 18, 2019 at 11:20 AM MST
TUCSON, Ariz. (KOLD News 13) - It might seem like a problem bigger than them, but these teenagers aren't backing down.
Twenty-eight teenagers at the Arizona-Sonora Desert Museum are developing a Plastic Free campaign to tackle the single-use plastic pollution problems.
By 2050, the ocean is expected to contain more plastic than fish (by weight), according to the World Economic Forum.
That's exactly why these teens, known as Junior Docents, are making a difference while they still have time. They researched the science and policies surrounding plastic use and pollution and developed a campaign.
Their campaign, known as the Blue Saguaro, aims to help people change their habits in regards to plastic use.
The campaign focus is to empower individuals to make their own personal changes.
Their slogan-- refuse, replace, revive-- sums it up. They want to encourage the Tucson community to refuse plastic products and replace their plastic with more sustainable products, ultimately to revive the ocean.
The crowning piece of their campaign is an art piece inspired by Wil Lala who had been a visiting artist at the museum in 2013.
This colorful tapestry portrays a blue saguaro cactus made of tiles, cut out from used soda cans and wired together with chicken wire.
"It's like our little mascot you could say in a way," Junior Docent, Vanessa Wernz said.
It's a talking point too. As it catches people's eye, the docents can introduce their campaign to individuals. It gives them a chance to discuss the damage it does to the oceans, specifically the nearest one to Arizona, the Sea of Cortez.
Tucsonans are under 220 driving miles to Rocky Point, Mexico's waters. The decision to make the tapestry's saguaro cactus blue is to remind people that there are oceans nearby that can be polluted.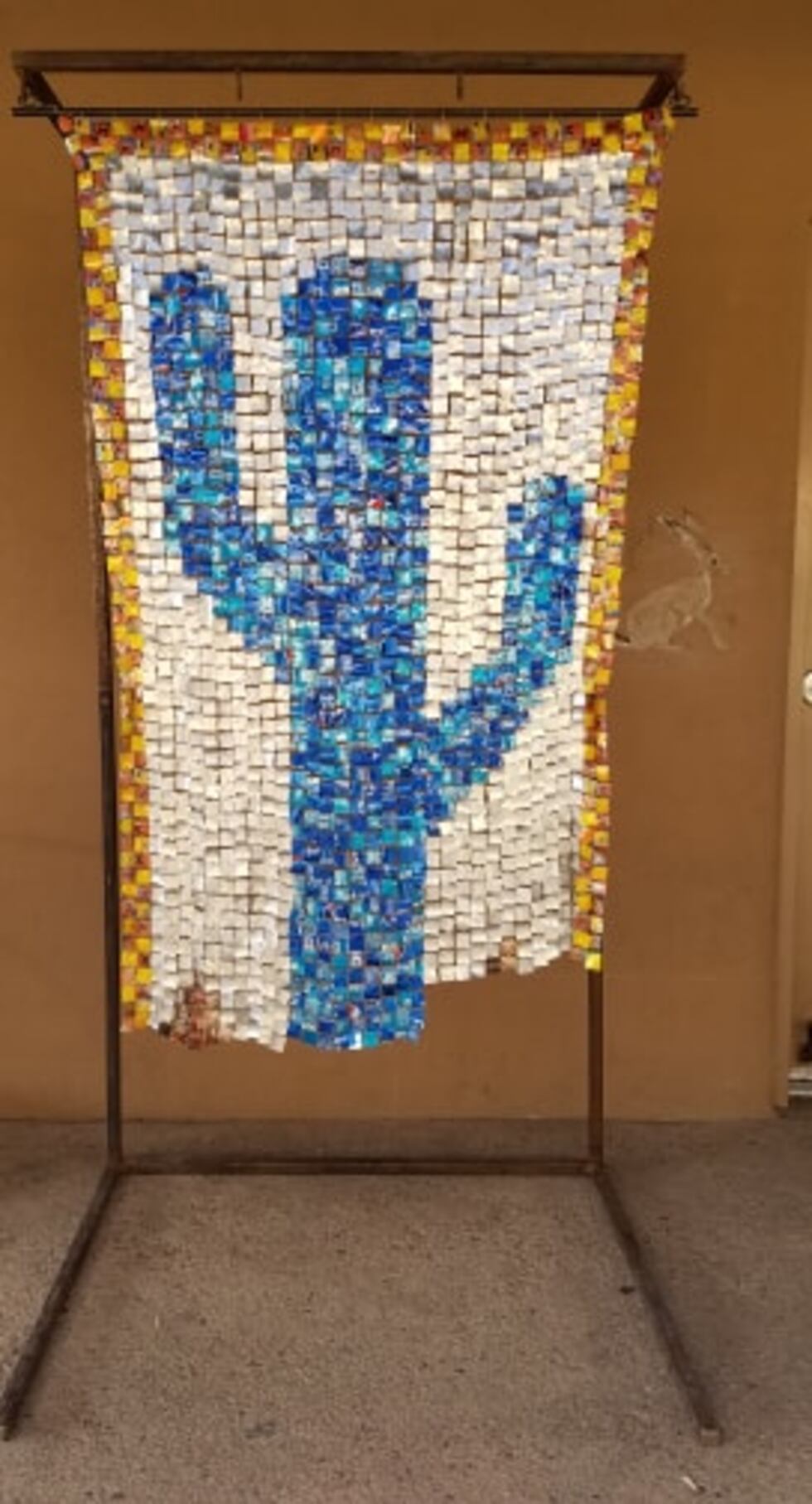 Education Specialist, Amy Orchard is the guiding hand of the campaign, but ultimately sits back and lets the group take the lead.
"I really wanted to get the Junior Docents into more leadership training," Orchard said.
And she's learning from their initiative; she's tried to be more proactive in her daily efforts. One goal is to wear ocean themed jewelry, sure to spark a conversation about the campaign.
Orchard felt a special connection to the earth from an early age.
"The first moment I knew that I was a piece of it and it was a piece of me, I must have been three or four and I was sitting in my front yard eating mud pies and I knew that I was part of something bigger," said Orchard.
Since then, she's worked to do her part in protecting the earth, no matter how small her individual efforts may feel.
"I'm just learning that every little thing that we do is meaningful and can make a difference and we should not be afraid to do really really big things," said Orchard who now watches her group make those same discoveries.
This group doesn't shy away from big things. A few of the docents took their efforts national. They represented the Tucson group at an international conference in Canada, known as Ocean Heroes Bootcamp.
More than 250 local Vancouver and international youth activists from over 20 countries and 24 U.S. states ages 11 to 18 are collaborating worldwide to fight plastic pollution through the second annual Ocean Heroes Bootcamp. Co-founded by Captain Planet Foundation, Lonely Whale, and Point Break Foundation, Ocean Heroes Bootcamp empowers existing and emerging youth leaders to create campaigns that measurably reduce plastic pollution in their communities around the world.
Ethan Pepe was one of those docents lucky enough to attend the conference. He participated in workshops on plastics, learned how to perfect a pitch and learned how to petition lawmakers to make new regulations.
Pepe said he was amazed to see what can be accomplished when working together, inspired by how other groups have found success and developed campaigns.
"Some might say, 'Oh we are just a small town in this random place in our state, we aren't doing much, we don't affect much,'" said Pepe but surrounded by success stories, he realized how powerful doing your part can be.
The bootcamp brought hundreds of participants together last year and continues to grow to nearly 300 this year.
"There's a real big snowball, like an avalanche right now, especially in the plastics movement," said Orchard.
Something else fueling that snowball is a global challenge happening throughout the month of July. It's the Plastic Free Ecochallenge with over 14,000 participants and more by the day.
This month-long effort allows people to sign up individually or in groups and gives suggestions of how they can refuse plastic. There is even an Arizona-Sonora Desert Museum group.
People can commit to buy food with as little amount of packaging, start using a reusable water bottle, take their own containers for take out food or volunteer in their community. There are options for all ranges of involvement. The challenge includes links to products to replace plastic items.
"I have come across some amazing products that I can invest in, so that I can make that change away from the plastics i have been using," said Orchard.
The resources available are making these personal changes more manageable.
"I would say if there's anyone out there who wants to join the movement, the avalanche, take a sled ride, but aren't sure where to start, go online. Google plastic free, there are so many resources and ideas," said Orchard.
The group feels Tucson has been supportive in their efforts and the opportunities for Tucson moving forward are immense.
"We have the backing with the Blue Saguaro, we have an organization or campaign and then the (Arizona-Sonora) Desert Museum and people in Tucson are pretty good about saying ya we can do something," said Pepe.
So you'll definitely be seeing more of the Blue Saguaro teens, determined to make a difference.
Copyright 2019 KOLD News 13. All rights reserved.