Gov. Doug Ducey to resume elective surgeries, stay-at-home order still in effect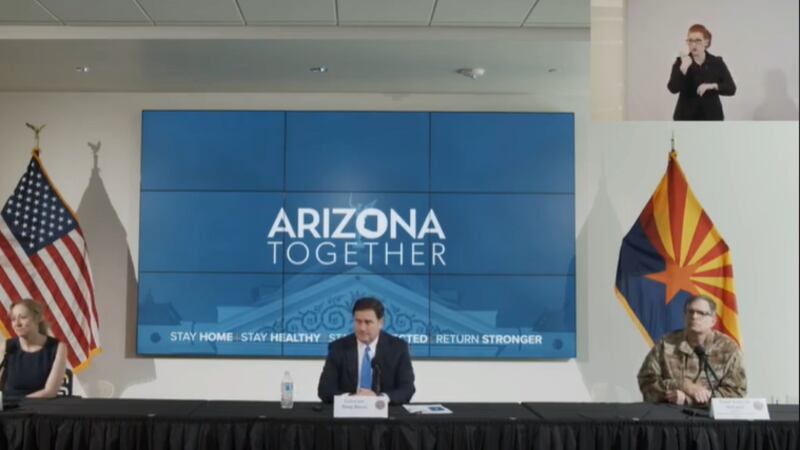 Updated: Apr. 22, 2020 at 3:49 PM MST
TUCSON, Ariz. (KOLD News 13) - Arizona Gov. Doug Ducey said Wednesday elective surgeries will resume May 1. The state's stay-at-home order is still in effect until April 30.
Ducey announced the decision in a press conference adding that outpatient facilities with "surgical centers who can demonstrate adequate capacity to resume elective surgeries May 1."
He did not say if he will or won't extend the stay-at-home order, which is set to expire April 30. Officials will meet next week to discuss easing the order, he said.
Ducey said hospitals are prepared to continue to address the COVID-19 crisis in Arizona, which has more than 5,000 cases and 220 deaths. Right now, hospitals have the capacity to address a potential surge in cases, Ducey said, with COVID-19 patients using less than 20 percent of beds in intensive care units as well as ventilators.
The University of Arizona will provide 250,000 antibody tests to the state and a partnership with Sonoran Quest will increase add an additional 1,000 to 3,000 antibody tests, Ducey said.
Though businesses and schools remain closed, Ducey said the state health department saw a drop in COVID-19 illness symptoms after he mandated the stay-at-home order March 31. Right now, he said his administration will follow reopening guidelines provided to governors by the White House.
"We are going to implement this on a statewide or county-by-county basis. ... Of course, my preference is to do things statewide," he said.
Ducey said his administration plans to do what's best for the state as new information comes out.
"We don't know if we are past the peak or before the peak today, yet, we are able to make a decision around elective surgery, a decision that's in alignment with public health in the state of Arizona, one we are confident will help a bit economically and we are to continue to act in that fashion."
Copyright 2020 KOLD News 13. All rights reserved.