How to distinguish murder hornets from other wasp species in Arizona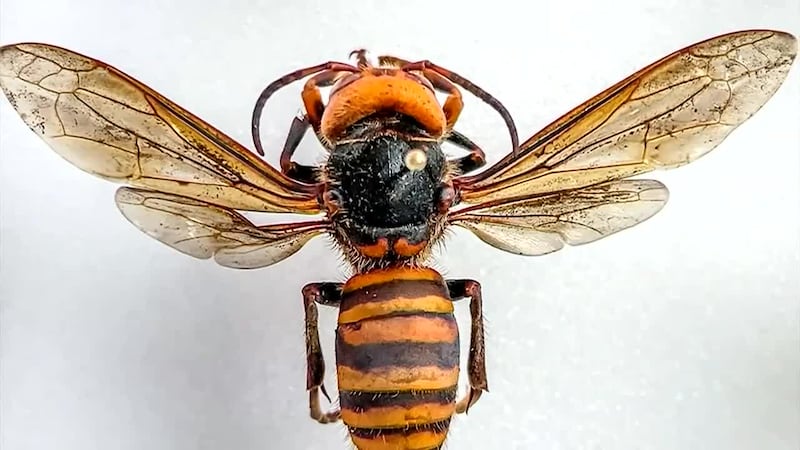 Updated: Sep. 8, 2020 at 7:36 PM MST
TUCSON, Ariz. (KOLD News 13) - The University of Arizona College of Agriculture and Life Sciences says it's been getting flooded with messages, photos and species identification requests since May- after many Arizona residents have reported potential sightings of the infamous Asian giant hornet.
But it's easy to get carried away, and the Asian giant hornet- more commonly referred to as the "murder hornet"- can quickly be mistaken with other species of wasps native to Arizona.
The cicada killer and tarantula hawk take the top spots.
"So far, the Asian giant hornet has only been found in the Pacific Northwest, specifically Washington State and British Columbia, " said Gene Hall, who manages the University of Arizona Insect Collection. "And there is currently no indication they have strongly established in that region."
And it seems a lot of mainstream media has sensationalized the awareness of murder hornets.
As if their nicknames weren't already scary enough, their massive size and reputation does not do them any favors- and people often confuse cicada killers and tarantula hawks with the murder hornets.
While University of Arizona entomologists encourage people to be on the lookout for sightings of the infamous bug, they are also providing some guidance for properly identifying them without confusion:
The head of the Asian giant hornet is usually larger than the cicada killer's. Their mid-section is black, while the cicada killer's is reddish-brown. The murder hornet's abdomen also has solid black bands, while the cicada has wider bands in the middle of the abdomen and spots on some segments.
And tarantula wasps are very particular in how they look. Their bodies are black and their wings are red, orange or a dark bluish brown- totally different from the cicada killer.
The Asian giant hornet's only similarity to the tarantula hawk is size, but everything else is different.
The murder hornet has not been found in Arizona, but if residents see large wasps and are unsure, they can contact the UArizona Insect Diagnostic Clinic for questions and identification.
And as the case is with all stinging insects, it is probably best to leave them alone. Insects will generally only sting while defending themselves, a nest, their offspring or their territory.
If you have concerns, the best thing to do is give them space and go your own way.
For more information on cicada killer wasps, click [HERE].
Copyright 2020 KOLD News 13. All rights reserved.