PCHD asks certain businesses to close, strongly advises residents shelter-in-place
Updated: Dec. 22, 2020 at 12:21 AM MST
TUCSON, Ariz. (KOLD News 13) -The Pima County Health Department is taking tougher action as COVID-19 cases continue to climb and major hospitals report little to no ICU capacity.
On Monday, Dec. 21, PCHD updated its Public Health Advisory.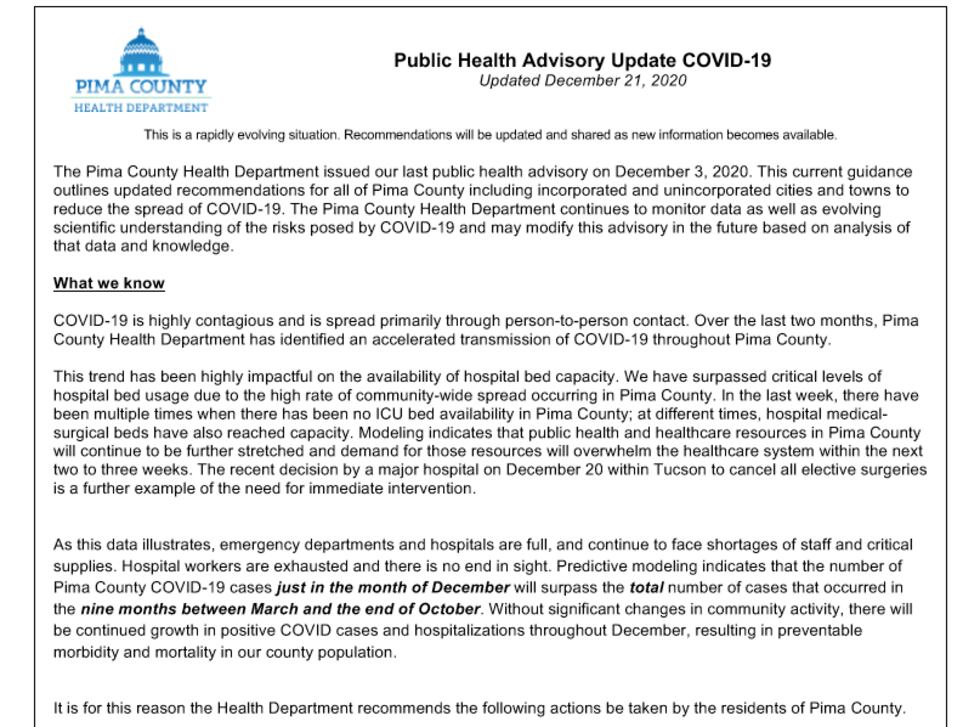 Residents are asked to shelter-in-place when not performing essential tasks. PCHD recommends families limit their Christmas gatherings to ten or less people (from the same home).
All businesses are strongly encouraged to reduce capacity to 25% (including staff). However, indoor playgrounds and pools, fitness facilities, dance studios, hair and nail salons and movie theaters are urged to close.
"By no means will I close my business voluntarily," said Danny Sawaya, who owns Tucson Strength.
Ever since he was given the green light to reopen, Sawaya implemented several new measures to keep his customers safe and his staff employed.
"We have enforced masks since we have been able to reopen in August 100% in our gym," he said. "We have built an outdoor training facility, I have spent over $20,000 plus on tents, fans, systems, moving equipment outside, security systems."
Given the current community spread of COVID-19, PCHD's Chief Medical Officer, Dr. Francisco Garcia, says new measures are necessary … even if they aren't enforceable.
"You have seen the health care sector; the hospital and fire districts, take a very strong and affirmative position saying, 'We are in deep trouble, things are getting tighter and tighter and we are starting to reach a breaking point'," said Garcia. "There are only certain measures we have in our toolbox. We are exercising every single one of those tools today. We are imploring, we are asking, we are begging businesses and community members to be our partners to try to keep this community as safe as we can."
Sawaya says he will need data showing businesses like his are part of the spread before he considers closing again.
"I've been to big box [stores] that I have had to walk out of because they are unbelievably packed," said Sawaya. "If they are not enforcing businesses that aren't following the mandate, it makes no sense to close businesses that are following the mandate."
Copyright 2020 KOLD News 13. All rights reserved.