Diocese of Tucson suspends indoor Mass beginning Jan. 8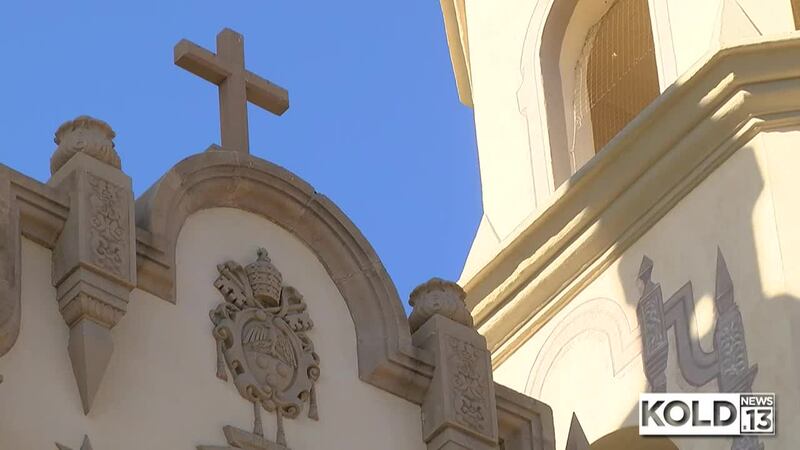 Updated: Jan. 5, 2021 at 3:38 PM MST
TUCSON, Ariz. (KOLD News 13) - In response to the rising cases of COVID-19 infections in the city of Tucson and in Pima County, the Diocese of Tucson has decided to implement new mitigation strategies for Mass celebrations.
Beginning Friday, Jan. 8, both Sunday and weekday indoor Mass and gatherings will be suspended; and they will remain suspended for four weeks, until Feb. 5.
In accordance with the changes, Mass can only be celebrated outdoors. Events like weddings and funerals may receive indoor accommodation, but they must be limited to 25 people; baptisms must be limited to 10 people. And no gatherings before-or-after ceremonies will be allowed on property.
In individual situations pastors may seek permission from the Bishop to celebrate indoors, but he will make the final decision based on local virus conditions.
The Dioecese of Tucson will hold a review on Feb. 1 to discuss any changes regarding COVID-19 before the suspension ends.
During the effective time, parish offices will be closed to the public. Diocese leaders encourage those at 'high-risk' to stay home and take advantage of online Mass services.
Below are also guidelines for priests to follow while anointing the sick:
Proper protection needs to be worn (e.g. masks, gloves, gowns) as required by the nursing home or hospital.

If at a private home, use at least mask and gloves.

Use the "Anointing in a Hospital or Institition".

For the "Laying on of Hands, the hands can be extended over the sick person without physical touching.

The anointing should be done with an instrument, (canon 1000) such as a Q-Tip or cotton ball. Do not cross-contaminate between the anointee and the vessel used for the Holy Oils.
Copyright 2021 KOLD News 13. All rights reserved.