VIDEO: Giant rockslide at Lake Powell caught on camera over holiday weekend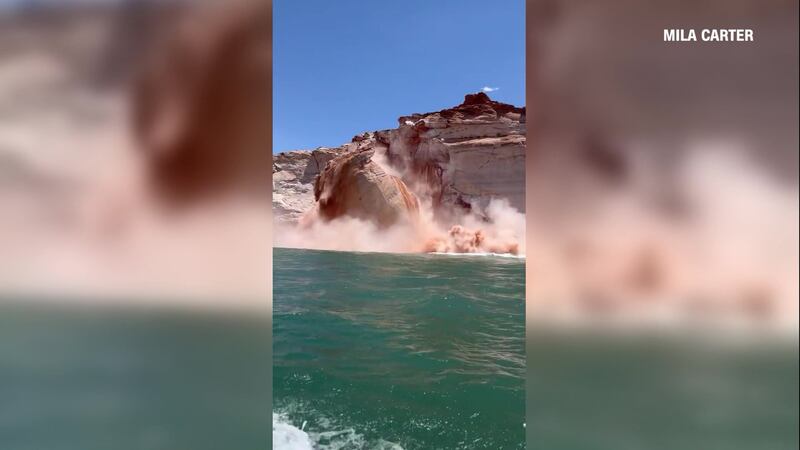 Published: May. 31, 2022 at 12:10 PM MST
LAKE POWELL (3TV/CBS 5/AP/CNN) -- Boaters at Lake Powell during the holiday weekend caught sight of a giant rockslide. Mila Carter shared video with Arizona's Family of the huge slab of rock that came crashing down into the water on Memorial Day.
"It was super loud and kind of like something from the ocean, maybe? Like something like a real loud crash," said Mila Carter, describing the moment she watched the huge piece of rock come down. "It was just unbelievable. We thought maybe a boulder, or something would fall, and just a huge chunk of this cliff just came out."
Carter and her family are spending a week-long vacation on a houseboat at the lake, and she and her husband were on their way back to the marina on a ski boat when they saw the rock start to fall.
In the moment she said she wasn't scared. "The aftermath was pretty impressive like the big splash and the huge tidal wave after," Carter said. "It was more just shocking and amazing but then afterwards it's like, wow that could have been a tragedy."
So, what caused this, and how common is it? Joe Cook is a research geologist with the Arizona Geological Survey and said the kind of rockfall is called a "rock topple," and the critically low water levels likely play a part. "The saturation and then drying with the falling water levels kind of contributed to that thing falling over. It might have fallen over anyway but having a reservoir there may have sped up the process," said Cook.
Cook said the tidal wave that followed could have caused damage on the opposite side of the lake, but in this case, it wasn't a big enough collapse. In the geological world, he said these happen a lot, but in terms of a human lifespan, it's pretty rare, and that Carter and her husband happened to be in the right place at the right time to see it. "There's probably a whole bunch of these things that are ready to go but they could happen in 100 years, 1,000 years. We don't really know," Cook said.
Safe to say it's a Memorial Day memory Carter won't forget. "It just reminds you how strong nature is, and we are just very small and not in control," Carter said.
While this doesn't happen often, Cook said it could happen, so it's important to be aware of your surroundings and understand there is a risk if you're boating, paddleboarding, or kayaking near a rock cliff like that.
The rockslide for the second-largest reservoir in the country comes as it dipped past a critical threshold, threatening water supplies and putting a key source of hydropower generation at heightened risk of being forced offline, as climate change-fueled drought continues to grip the Western U.S.
Lake Powell's fall to below 3,525 feet (1,075 meters) puts it at its lowest level since the lake filled after the federal government dammed the Colorado River at Glen Canyon more than a half-century ago — a record marking yet another sobering realization of the impacts of climate change and megadrought. Hydrology modeling suggests there's roughly a 1 in 4 chance it won't be able to produce power by 2024.
Copyright 2022 KTVK/KPHO. All rights reserved.