Bookmans postpones Drag Story Hour over safety concerns
Bookmans Northwest will postpone and relocate its March 25 event after church pushes for cancellation.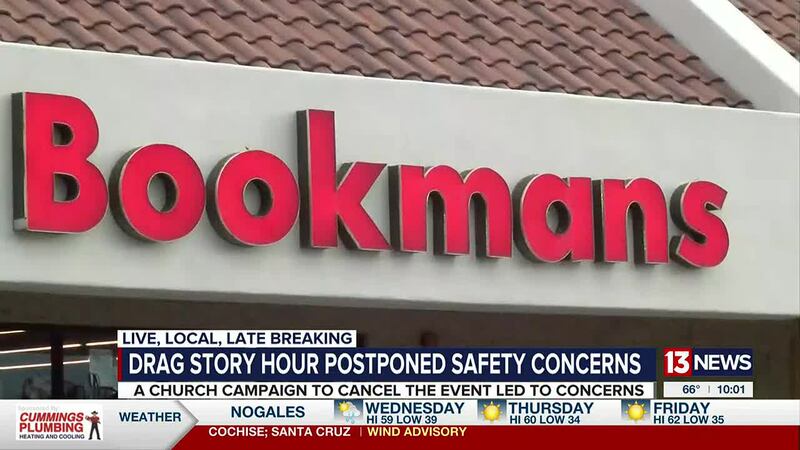 Published: Mar. 22, 2023 at 6:34 AM MST
TUCSON, Ariz. (13 News) - Bookmans Northwest location postponed its Drag Story Hour after a campaign by The Bridge Christian Church to get the event canceled.
A church official said this is the first time he became aware of such an event and decided to speak out.
"We simply don't think it's OK to put together drag queens and children. And the idea of children being sexualized that way, it's not acceptable even if they're just reading books," said Pastor David McAllister. "Again, they have the freedom to do that, and we have the freedom to make it clear that we don't approve."
Sean Feeney, president of Bookmans Entertainment Exchange said they have been hosting these events for years, even virtually during the pandemic.
Last month, the Drag Story Hour event in Tempe was canceled after a bomb threat. This combined with the number of calls on social media encouraging disruption to this event pushed them to postpone.
The safety of all participants was extremely important, especially since the event gained the attention of the local Proud Boys chapter.
"We had not planned for the necessary security and safety precautions that would be necessary to have an event under those circumstances. And again, we've had this event frequently in the past and never had to make those kinds of arrangements," Feeney said.
McAllister said the Proud Boys contacted the church to provide extra security for their protest, but the church turned them down.
Despite Bookmans' fears, McAllister said the protest would have been peaceful.
"We were very clear with everybody what we're going to do. We were simply going to go there, we were going to have signs that talked about, don't have Bookmans sexualizing our children," McAllister said. "We are making it clear it wasn't the whole reading literacy thing. We're all for reading literacy. But if you looked even in the fine print of what they had for the description about the event, they talked about getting them knowledgeable about queer influences."
Despite the roadblocks, Feeney said they still plan to hold the event later. Following the announcement, they received an uptick in support of the event.
And Feeney said this event is also part of their core mission.
"We have always put forward that Bookmans is a home and a haven for everyone in the community to feel welcome. And frankly, given the discourse around LGBTQ+ communities in the last number of years, we feel it's important to foreground those communities to express that inclusiveness for all," Feeney said.
But McAllister makes clear that their position will not change, and they will be ready when Bookmans finally decides on a new date and location.
"They said they've postponed their event. So, we've postponed our demonstration," McAllister said.
Feeney said that they have a meeting scheduled with the Jewish Community Relations Council to discuss a new location and date for the event to be held.
Copyright 2023 13 News. All rights reserved.