University of Arizona quarterback Jayden de Laura to remain on team after settling sexual assault lawsuit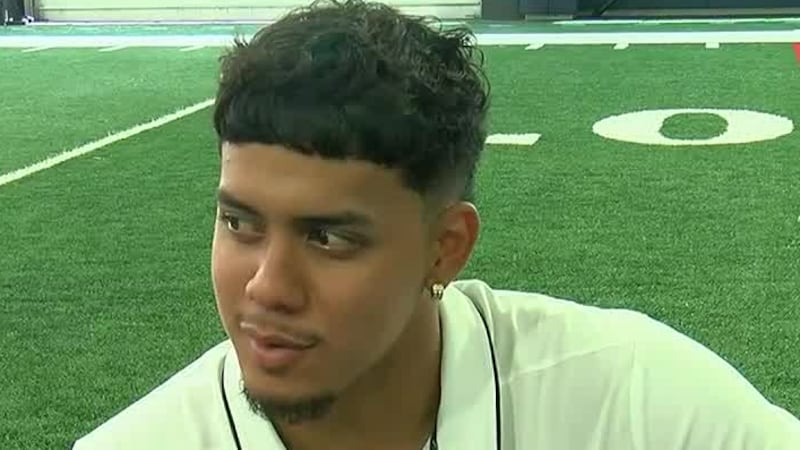 Published: May. 5, 2023 at 3:52 PM MST
|
Updated: May. 6, 2023 at 12:41 PM MST
TUCSON, Ariz. (13 News) - The University of Arizona has released a statement after the report that starting quarterback Jayden de Laura and a former high school teammate agreed to pay a woman who said she was sexually assaulted by the players on October 27, 2018.
In a statement, the University of Arizona Athletics Department said, "In the fall of 2022 after a civil complaint was filed against football student-athlete Jayden de Laura, the University of Arizona first became aware of a 2018 incident involving de Laura which occurred while he was in high school in Hawaii. After reviewing the matter, the determination was made to allow de Laura to continue as a student-athlete and his status remains unchanged."
Earlier this week, the University of Wisconsin released a statement about the status of the other player, who now plays for the University of Wisconsin, saying, "Based on the information available to the UW-Madison Office of Legal Affairs and UW Athletics officials, the matter being reported that involved Latu prior to his time as a college student does not violate the UW Athletics Student-Athlete Discipline Policy, university misconduct policies, or reporting or disclosure requirements. Latu remains a member of the Wisconsin football team."
To read the original story, go to this link: https://www.kold.com/2023/05/04/former-hawaii-high-school-football-stars-settle-civil-lawsuit-over-sex-assault-case/
Be sure to subscribe to the 13 News YouTube channel: www.youtube.com/@13newskold
Copyright 2023 13 News. All rights reserved.