Hours-long standoff and shooting ends with Mesa homicide suspect in custody in Globe
Published: May. 12, 2023 at 8:02 PM MST
|
Updated: May. 12, 2023 at 10:25 PM MST
GLOBE, AZ (3TV/CBS 5) -- Investigators say a Mesa armed robbery suspect is in custody after a shooting involving officers and an hours-long standoff in Globe on Friday evening. The U.S. Marshals Service says task force members were searching near Golden Hill and Russell Road for a man wanted for a deadly robbery two months ago in Mesa. The man reportedly fired at law enforcement around 4 p.m. He then barricaded himself inside a home. Investigators said after negotiating a peaceful surrender for hours, he was finally taken into custody.
The Department of Public Safety, Mesa Police U.S. Marshals and Gila County Sheriff's Office are at the scene. Deputies are urging residents to steer clear of areas near Golden Hill and Russell Road. No officers were hurt. Investigators say the man had non-life-threatening injuries. His name hasn't been released.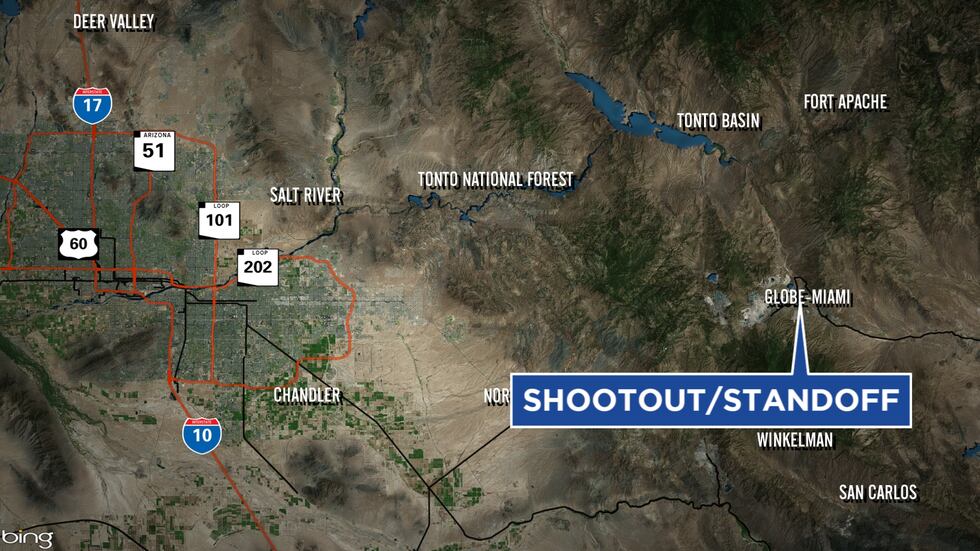 Detectives say Friday's suspect was with 36-year-old Zane Robert Proctor on March 3, and they went inside a business armed with guns near Alma School Road and University Drive. The two began to fight with a person inside, and the victim was shot and later died. The two then robbed the victim and took off, police said. Proctor was arrested on May 5, nearly two months after the initial robbery, in Gilbert on two warrants. He claimed his accomplice got into a "tussle" and shot the victim, police said.
Proctor faces charges including first-degree premeditated murder and armed robbery with a deadly weapon. The victim hasn't been identified.
This is the eighth officer-involved shooting outside Maricopa County and the 36th in the state in 2023.
Copyright 2023 KTVK/KPHO. All rights reserved.