Golder Ranch Fire District honors one of its own for Hispanic Heritage Month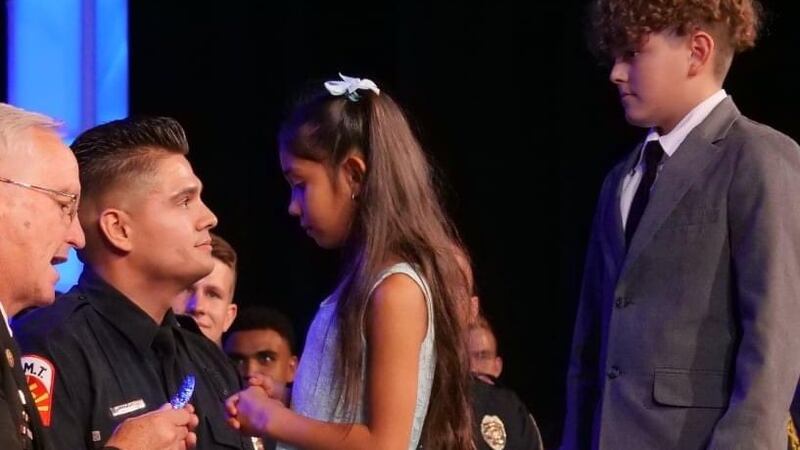 Published: Oct. 16, 2023 at 12:26 AM MST
TUCSON, Ariz. (13 News) - The Golder Ranch Fire District is highlighting one firefighter paramedic in honor of National Hispanic Heritage Month.
Hector Medel began his career as a firefighter paramedic with Golder Ranch in 2013, he is now beginning the process of becoming a United States Citizen.
His friend's stories inspired Medel to become a first responder.
"I have been blessed to be at GRFD for almost 3 years now," Medel said. "My best friend since high school, Captain Jose Ahumada 379 C-Shift is a huge part of why I joined the fire service and am here at Golder now."
When he was five years old, Hector and his parents moved to Tucson from Mexicali, Baja California. Medel shares that his father worked as a bricklayer and his mother as a school janitor.
"They have always taught me the importance of hard work and service to the community," Medel said. "They worked hard and made many sacrifices in order to obtain my Permanent Residency in the United States."
Medel was granted his Green Card in 1977. Now, he is honored to begin the process of becoming a U.S. citizen.
According to Medel having the right to vote is the most important reason why he wants to become a citizen. He said he is committed to growing as a first responder to serve the community better.
"This job means a lot to me since we have a meaningful impact on other people's lives daily," Medel said.
Be sure to subscribe to the 13 News YouTube channel: www.youtube.com/@13newskold
Sample HTML block
As we celebrate #hispanicheritagemonth, we are proud to highlight Firefighter Paramedic Hector Medel.

Hector has been with Golder Ranch Fire for almost 3 years. He says his best friend since high school, Golder Ranch Captain Jose Ahumada, is a huge part of why he joined the… pic.twitter.com/xhsCiuDncD

— Golder Ranch Fire (@GRFDAZ) October 7, 2023
Copyright 2023 13 News. All rights reserved.