Diamondbacks announce specialty food and drinks for World Series games at Chase Field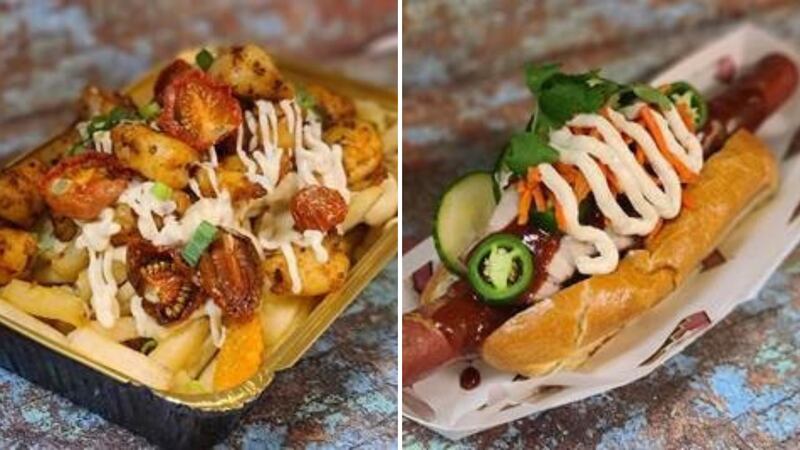 Published: Oct. 28, 2023 at 4:17 PM MST
PHOENIX (3TV/CBS 5) - Arizona Diamondbacks fans, get ready to bring your spirit, jersey, and appetite to the World Series games at Chase Field! The D-backs announced new specialty food and beverages will be available during the World Series games in Phoenix.
Chase Field executive Chef Steve Tilder and the team at Levy Concessions have created a special menu for fans attending the World Series Games 3, 4, and 5 (if necessary).
Below is a list of the new and delicious food that will be available for purchase at Chase Field during the World Series:
Millionaire Steak Sandwich: Sliced beef tenderloin, black truffle cheese sauce, crispy mushrooms, and garlic herb aioli on a toasted brioche hoagie. Available at Copper State Steaks, Section 120
Cajun Shrimp Fries: Hand-cut potatoes, Cajun gulf shrimp, garlic cheese sauce, lemon aioli, oven-dried tomato, and scallions. Available at Taste of Chase, Section 13.
Tenderloin Steak Nachos: Beef Filet Mignon, Gorgonzola and Boursin cheese sauce, charred tomato, avocado crema, and jalapenos. Available at Taste of Chase, Section 130
Pork Belly Banh Mi Dog: A footlong, all beef hot dog, house smoked pork belly, gochujang barbecue, cucumber, jalapeno, pickled carrots, and garlic aioli on a New England hot dog bun. Available at Big Dawgs, Section 105
Apple Pie Chimichanga: Apple pie, crispy flour tortilla, cinnamon sugar, caramel, vanilla frozen yogurt, Crackerjacks, strawberries, and whipped cream. Available at Sweet Treats, Section 123
Below are the new refreshing drinks that will be available at all bars that sell liquor in the stadium:
Cactus Cooler is a refreshing blend of fresh lime, prickly pear, and watermelon vodka.
Moneyball Mango Margarita is a house-made mango margarita mix, and premium tequila served on the rocks with a zesty Tajin and Chamoy rim and tamarind candy straw.
See a spelling or grammatical error in our story? Please click here to report it.
Do you have a photo or video of a breaking news story? Send it to us here with a brief description.
Copyright 2023 KTVK/KPHO. All rights reserved.