PACC is over capacity, causing concern as we head into Halloween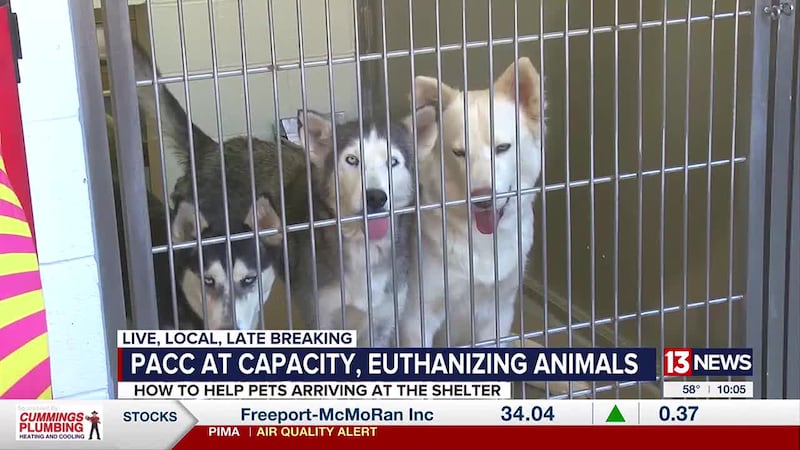 Published: Oct. 30, 2023 at 10:28 PM MST
TUCSON, Ariz. (13 News) - Pima Animal Care Center is over capacity and the upcoming holiday is causing more concern among those at the shelter.
The number of animals PACC is caring for in the facility is far more than volunteers can care for, forcing PACC to put dogs on the deadline list. This is why they are urging all pet parents to Pima Animal Care Center to take simple steps to ensure they don't end up in the shelter.
PACC says when a dog is on deadline, it has five days to be fostered or adopted before being euthanized.
According to Kayleigh Murdock with PACC, the worry now is even more pets can arrive at the shelter in the coming days because of Halloween. As spooky as the holiday might be, officials say it's even scarier when dogs have to be put on the euthanasia list because of overcrowding.
"We've been lucky to not have to euthanize due to space in the past year, but unfortunately with our current capacity. It is something we are concerned about," Murdock said.
Just this year, the shelter has had to euthanize 437 dogs, with 74 animals being put down just in September. However, Murdock said a vast majority of these animals were put down for severe medical reasons.
"When we have that many we know we tend to have dogs stay longer. It is more likely that the disease can spread through the shelter," Murdock said. "We see kennel stress start to present itself in some of our dogs, just because it is such an overcrowded environment."
PACC has taken over 14,000 animals into its shelter so far this year.
As of October 30, 2023, PACC had 535 dogs in its shelter. The shelter's capacity is 450 dogs, meaning they have 85 more than what the shelter can care for.
According to Murdock, year-to-date PACC has a 90.17% live release rate, which is the percentage of pets that enter the shelter that have a live outcome.
"When we are at so far capacity, we do have to look at the deadline in dogs because when we see an average of 30 to 40 dogs a day, which is typical, we need to have kennels to put those dogs into," Murdock said.
This is why if you do have a pet, Murdock has these recommendations to keep your pet away from the shelter.
"On Halloween, what we would recommend is just to keep your pet somewhere safe and quiet," Murdock said. "Whether that is in a bedroom, in a back room, wherever. Somewhere where they don't have to be exposed to the ruckus. The knocking on the doors, all of those noises."
According to Murdock, the community can help by fostering or adopting a pet but if you can't do that, she said there are plenty of other ways you can help reduce the numbers.
"If you can go to our social media, we are active on Facebook, Instagram, NextDoor, and just share our posts," Murdock said. "Help us reach more people who need to know. While you might not be able to take a dog right now, perhaps your neighbor, your co-worker or your friend can."
If you happen to lose your furry friend or find a lost pet near your home. Murdock said the best thing to do is go to petcolove.org. She said this is a national database that uses facial recognition to bring lost pets back to their family.
Be sure to subscribe to the 13 News YouTube channel: www.youtube.com/@13newskold
Copyright 2023 13 News. All rights reserved.