Could the influx of migrants at our southern border impact Arizona's economy?
Published: Nov. 14, 2023 at 10:55 PM MST
|
Updated: Nov. 21, 2023 at 10:04 AM MST
TUCSON, Ariz. (13 News) - The increase of migrants at the border is still wreaking havoc on the U.S. Government. The influx is also causing a slowdown in traffic to businesses that depend heavily on legal immigration to keep them afloat.
In recent months, because of construction at the Morley Pedestrian Crossing and lane closures at the Deconcini Port of Entry, business owners are worried their peak season will be impacted with fewer people crossing the border.
Due to the influx of migrants, U.S. Customs and Border Protection has closed lanes at the Deconcini Port of Entry so agents can assist people seeking asylum.
Jaime Higuera owns "Higos Chilorios and Coffee Food Truck on Patagonia Highway. He recently expanded the business to open a restaurant on Morley Avenue in Nogales.
Higuera hopes his restaurant is just the beginning of the change in this area. Like his name, Higuera's restaurant specializes in using figs in its recipes.
"They have completely forgotten this place and now they go to the supermarkets, Walmart, and here they hardly visit it anymore," Higuera said.
Higuera has seen Nogales in its prime, growing up in the border town. He said people would fill the streets for a day of shopping. Now, it's a completely different scene.
"I wanted people, young people, to come here again to visit and take in the old culture."
Higuera shares that people have crossed over since the pandemic. He said business has been extremely slow with the closure of the Morley Port of Entry. He remembers when cars would fill the street, causing parking to be a big issue.
According to CBP data, the number of travelers coming into the U.S. from Mexico through Nogales' Port of Entry has declined since July.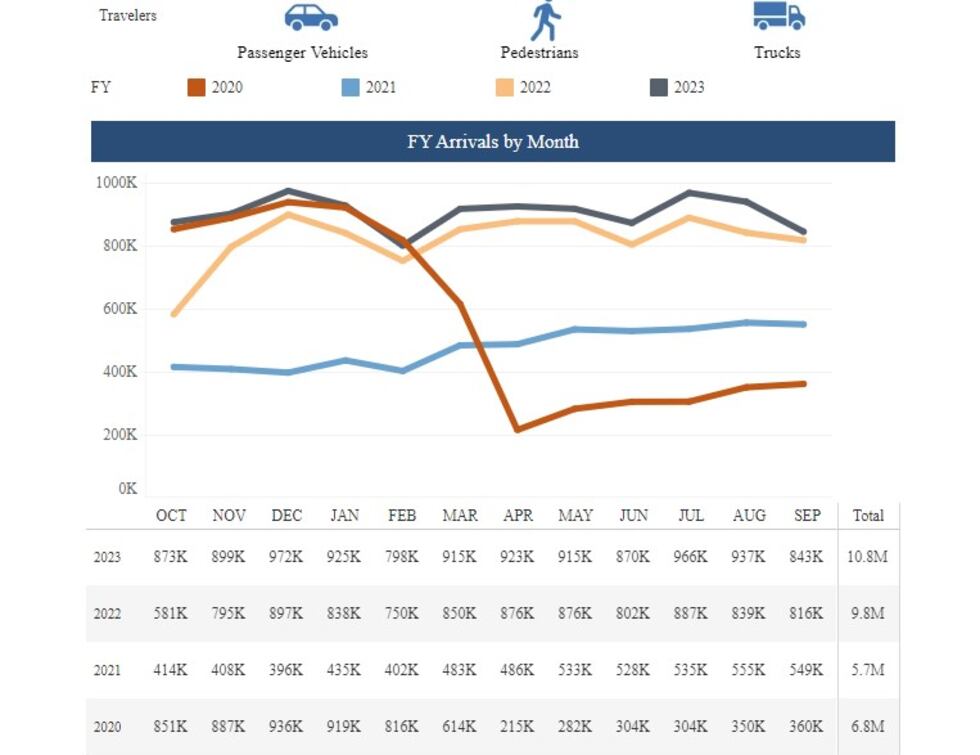 In July, the number of travelers crossing reached 966,000, a peak for the Nogales port of entry. In August, the port of entry saw a drop of 29,000 travelers, totaling 937,000. September also saw a drop, down to 843,000.
"Let's hope that when they open what is now the pedestrian checkpoint here, the flow of people is more," Higuera said. "It will be more fluid and that at the same time, businesses can grow and there can be more and more infrastructure."
According to Jorge Maldonado, the Mayor of Nogales, lane closures and wait times at the border could discourage some from crossing, which could impact the city's busy season.
"Our economy will be hurting from the lack of tourists and people coming to visit and purchase here in Nogales and throughout Arizona," Maldonado said.
Even though he said they are handling the migrant increase the best as possible and have been able to adapt to the situation. He said it's still difficult as the number of migrants seeking asylum
Maldonado tells 13 News that he waited in line for three hours just this past week. He was not able to cross back to the U.S. until 1:00 o'clock in the morning.
"Gas prices aren't as cheap as they were, and people have to think, 'Do I want to waste a quarter of a tank just in line," Maldonado said. "They will get discouraged depending on what they are going to buy."
Maldonado doesn't see an end in sight and believes that in December, they'll see yet another large increase in migrants seeking asylum.
This is why the mayor is calling on Washington to put together a better plan to combat the increase.
"I hope that our port understands that we are going to get a peak," Maldonado said. "Hopefully, they would work on getting more lanes during peak hours or peak weekends."
Even though lawmakers seem to be negotiating a solution to avert a Government Shutdown.
Mayor Maldonado said that if funding stops, even for a short time, it could have a ripple effect on the economy of Nogales and the whole state.
Be sure to subscribe to the 13 News YouTube channel: www.youtube.com/@13newskold
Copyright 2023 13 News. All rights reserved.