Reporter
Tucson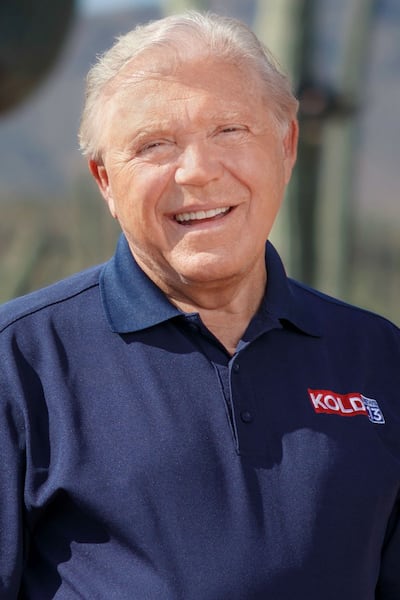 Bud was inducted into the Arizona Broadcasters Hall of Fame in October 2009. He was also honored with an Edward R. Murrow Award in 2010, one of the most prestigious awards in journalism. In 2020, Bud won his first Emmy.
Bud was born in Lafayette, Indiana. He graduated from Ball State University where he earned a B.S. in business administration. His graduate studies brought him to Arizona, journalism at Arizona State and political science at the University of Arizona.
He has spent more than 40 years in the news industry in Arizona, having started in the studios of KAET at ASU in 1973. He quickly moved to NBC Channel 12 in Phoenix and at KOOL-TV, the Phoenix CBS affiliate. He came to Tucson in 1980 as an anchor for Channel 4. He moved to KOLD News 13 in 1994 as the anchor of the evening broadcasts.
KOLD reporter Bud Foster
Bud has been nominated four times for an Emmy and won 30 other awards, including several Arizona Press Club Awards. He has been inducted into the prestigious Silver Circle by the National Academy of Television Arts and Sciences for his many years of contributions to the television industry.
Bud brings credibility, market experience and knowledge of the city to KOLD. He enjoys getting to meet new people every day and getting to wrestle with the issues of the city and surrounding communities.
His participation in the world of news is equaled by his participation in the community. He's served on a dozen different boards, including Amity, the Brewster Center, the Juvenile Diabetes Association and Parent Connection.
Bud said "I think the most important thing is to give back to your community."
He devotes his off time to his wife, Maureen, their dogs, golf and scuba diving.
He has a daughter, Victoria, and two grandchildren.
Contact Bud
• Email: bud.foster@kold.com
• Facebook: https://www.facebook.com/BudFosterTNN/
• Instagram: https://www.instagram.com/groovydog1/
• Twitter: https://twitter.com/budfoster