Deported immigrants face hardships, keep trying to cross
Published: Oct. 27, 2011 at 8:54 PM MST
|
Updated: Mar. 2, 2018 at 4:20 PM MST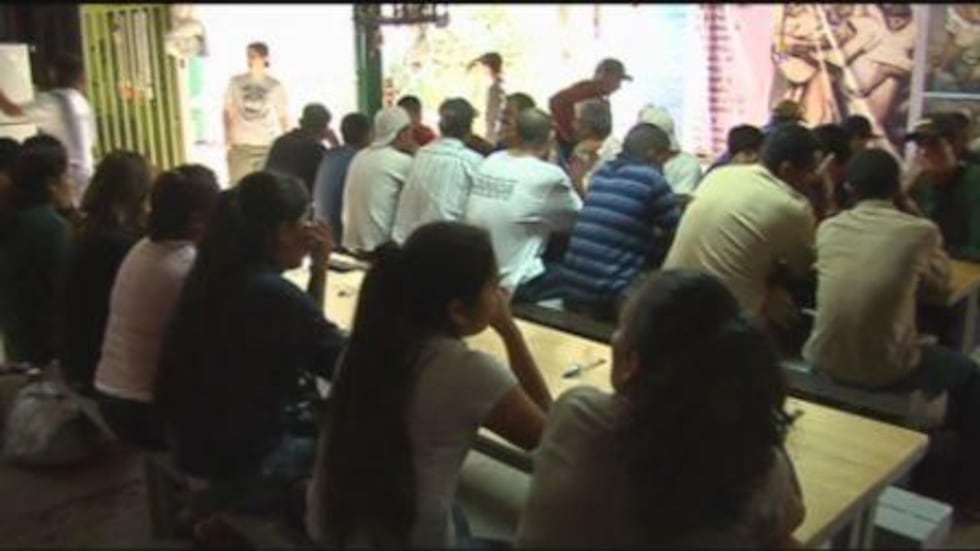 TUCSON, AZ (KOLD) - Illegal immigration is a hot button issue that comes at a big cost to society - and here in Southern Arizona.
It also comes at a big cost to the hundreds of thousands of men, women and children who try to sneak across the border every year.
Humanitarian groups report 182 illegal immigrants died trying to cross that border this year. Thousands more were arrested and returned to their home country.
In Nogales, Sonora, where twice, sometimes three times a day, buses with bars pull up at the US-Mexico check-point.
The buses are filled with immigrants. Some in shackles, some still in hospital gowns, dropped off back in their home country. But for many, it doesn't feel like home.  Just a few inches of metal separate them from their American dream, and in many cases their families, back in the U.S.
At an aid center just a few minutes away from the Mariposa checkpoint, every day the table is set for about 120 guests.
"This is an aid center for deported migrants," said Rev. Sean Carroll.
They patiently line up outside, waiting for more than food.  Many of these deportees were dropped off with nothing but the clothes on their back.
But U.S. customs and border patrol agents say that's the risk you take when you break the law.
Stepped up immigration raids and arrests involving illegal immigrants have led to more than 400,000 deportations this year.
Guys like Antonio Bravo, who took the chance to sneak across the border, don't make it very far.
"It's sad," he said. "I couldn't make it there to be with my dad. Oh well."
U.S. Immigration and Customs Enforcement officials say more than half – 55 percent - of the deportees have felony or misdemeanor convictions. Among those deported, 1,000 people were convicted of homicide, 5,800 were sex offenders    and about 80,000 were convicted of drug-related crimes.
These numbers are a victory for the federal government, but it's a sense of failure for deportees. Trekking through the hot desert - to find work or be with family – is a big risk they choose to take.
"We're tired from walking so many days in the desert and sad because we have to go back to Puebla," said one man who didn't want to show his face because he said he plans to illegally cross that desert again.
"I would like the opportunity to get a work visa.  I wish they would make the process easier."
One man wonders whether he'll ever see the 5-year-old child he left behind in California.
"My daughter tells me 'Come home, Papi, come home. I miss you, I miss you.' "
Workers with the humanitarian group Kino Border Initiative say they do what they can to help deported immigrants.
"It really speaks to the need for immigration reform in our country," Carroll said.
Many illegal immigrants said they borrow thousands of dollars to enter the U.S. with a coyote, or human smuggler. That money is usually paid back through hard labor.
"You get to a point of wondering what's going to happen to me if I don't give them their money."
Border patrol officials say the desperation many face to pay back that debt leads them to commit other crimes.
"Even people that take you there, they obligate you to sell drugs," said Francisco Martin. "It's desperate. Very desperate.  Very, very desperate."
It's a desperation that leads millions of illegal immigrants into the hands of human smugglers.
The lure of a job is strong, but more difficult to obtain, with immigration raids more commonplace
"They used to hire other Mexicans in restaurants.  Now they are very scared.  Now the fines are very heavy."
The latest bus load of deportees may be able to get a bowl of hot soup and clothes here. But many of them will end up on the streets.
"Here is where those of us who have nowhere else to go live.  We are the homeless."
Jorge shows us where 30 are living. It's a dark tunnel, but Jorge says even this is part of achieving the American dream.
Like many of his companions, he plans to try to sneak across the border again.
"I've tried it recently and I made it into Rio Rico, but in no time border patrol agents were all over me on their ATVs and on horseback," Jorge said.
It's a never-ending cycle.  Federal authorities say about two-thirds of those deported either recently crossed the border, or have done so repeatedly. They are willing to sacrifice limbs, and even their lives for that small shot of achieving the American dream.
Penalties are stiff for those repeatedly caught for breaking into the United States.  Many of these illegal immigrants end up in local prisons for several years for repeated attempts.
Copyright 2011 KOLD. All rights reserved.