UA studies may lead to easier, more effective treatments for chronic skin wounds
Published: Sep. 9, 2013 at 8:20 PM MST
|
Updated: Sep. 23, 2013 at 8:44 PM MST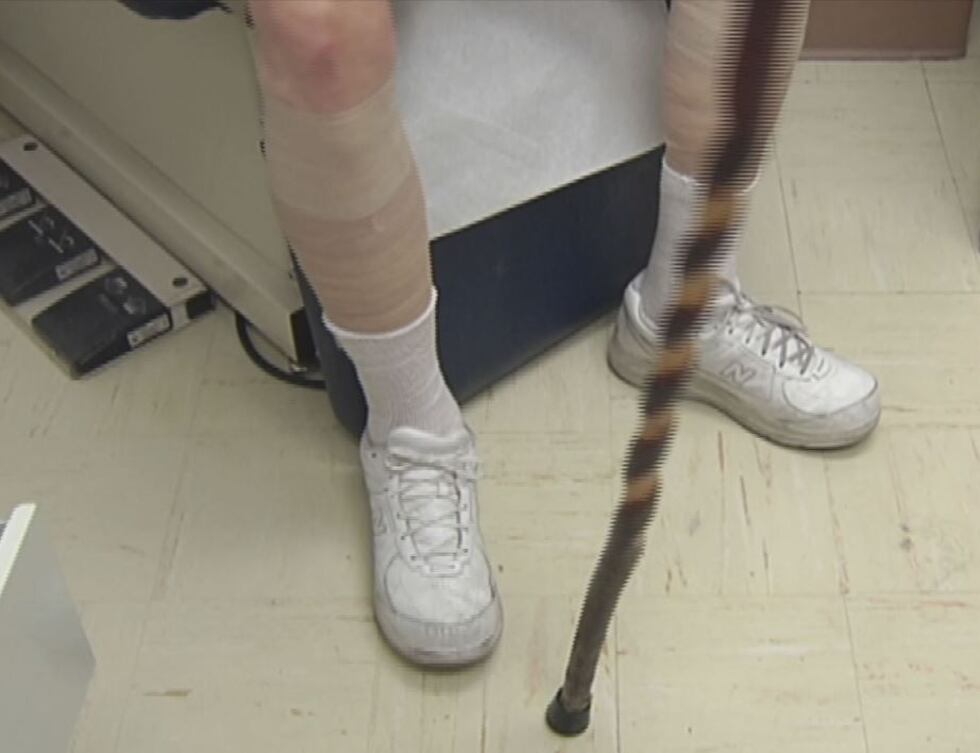 TUCSON, AZ (Tucson News Now) - Tucson researchers are working on new treatments for hard-to-treat wounds on the skin.
There are two studies recruiting patients right now.
One is research into a spray-on solution that could also help prevent bigger problems.
Chronic leg ulcers or a chronic wound of the extremities is pretty common.
The experts say, in this country, it happens every eight seconds, and in the worst case scenario it can lead to death.
Right now at the University of Arizona Medical Center, researchers are signing up patients for a study of, basically, spray-on skin that could change everything.
Alfred Havas has been dealing with vein disease that has caused chronic leg wounds or ulcers.
He's excited about the new study of the spray-on skin that might make healing easier and faster.
"If it means that the spray works, the spray prevents me from having to have infections in the legs, I think it'd be wonderful," Havas says.
University of Arizona Professor of Surgery, Dr. David Armstrong, says the spray-on skin, made of donor skin, is just one of the new technologies being developed for chronic wounds.
Studies already suggest the spray actually stimulates a person natural skin cells to send out messages. Healing messages.
"A whole, really complicated symphony of signals that call on your own body into sending more little baby blood vessels and skin cells across the wound to seed it and heal it," says Dr. Armstrong.
As the director of the UA's Southern Arizona Limb Salvage Alliance, or SALSA, Dr. Armstrong is on a mission to prevent amputations.
"What this new technology may offer us is a way to heal these wounds faster and more consistently," he says.
"Maybe we don't have to do as many hospital admissions, as many trips to the operating room, as many big skin grafts and reconstructive procedures. And the faster we heal these wounds, the less likely these patients are to have subsequent problems like infections and blood poisonings and gangrene and other really chronic complications," Armstrong adds.
Those are complications that can lead to amputation, even death.
Alfred Havas is ready to sign up for the study.
"So we get a chance to maybe have something that will work where we don't have to have any people losing their limbs. I think that would be great," Havas says.
Dr. Armstrong has a second study now recruiting patients.
It's for people who have diabetic foot ulcers.
It's a study of a brand new protein that might reduce chronic inflammation in diabetic foot ulcers.
Diabetic foot ulcers can lead to all sorts of complications, including amputation and death.
Chronic, low-grade inflammation can make treatment a difficult and slow process.
That sort of inflammation is thought to be the culprit behind many of the diseases that afflict us.
Dr. Armstrong says finding a treatment to reduce it is, "sort of, the holy grail of chronic disease management."
Armstrong says reducing inflammation in diabetic foot ulcers could lead to other treatments.
"Maybe help heal a wound on someone's heart or a plaque in a blood vessel or a kidney that's not functioning and prevent a heart attack, a stroke, dialysis, an amputation. This is our future, and the future is really exciting," Armstrong says.
To find out more about both studies, click here, and scroll down to "Schedule a Research Evaluation."
You also may call 505-1572, in Tucson.
Copyright 2013 Tucson News Now All rights reserved.