Swarm of earthquakes hits Salton Sea in southern California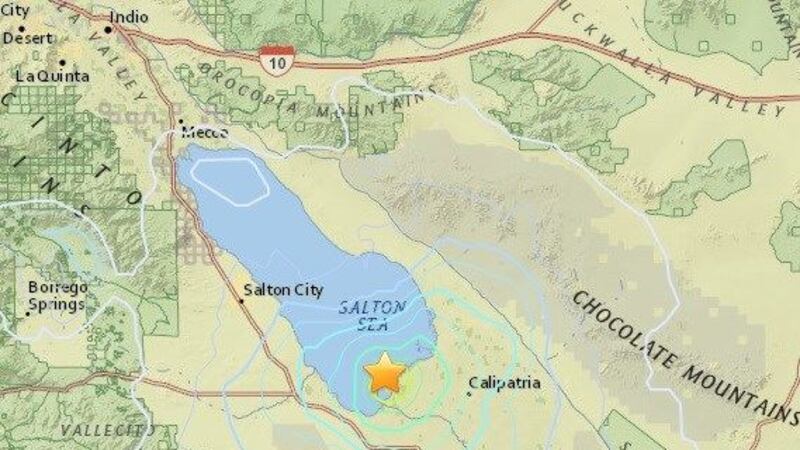 Published: May. 21, 2015 at 11:23 AM MST
|
Updated: Feb. 28, 2018 at 5:22 PM MST
TUCSON, AZ (Tucson News Now) - A 4.1 magnitude earthquake hit the Salton Sea at 8:15 Wednesday night. This quake was followed by 5 aftershocks ranging in magnitude 2.6 to 3.3 over the next 2 hours. Numerous weaker aftershocks have also been recorded.
The map below shows where these earthquakes occurred, which is near the southern edge of the Salton Sea. Some of these tremblers were powerful enough to be felt by the few people that live in that area. The Salton Sea is located between Interstate 8 and Interstate 10 in Southern California. The strongest earthquake was about 67 miles southeast of Palm Springs.
Click here for a complete list of earthquakes around the globe.
Small to moderate earthquakes are common in this area. According to the U.S. Geological Survey, the Salton Sea sits over an area of partially molten rock deep below the surface of the Earth. The shifting of this molten rock along with movement along fault lines crossing southern California produces the earthquakes. The last volcanic eruption took place in southern California about 9,000 years ago. This produced hardened lava domes still seen today in the image below.
Heat from this molten rock also produces geothermal energy. According to the USGS, enough energy is created each year by the power plants in the area to supply 325,000 homes.
To learn more about this area click here.
Copyright 2015 Tucson News Now. All rights reserved.