Traffic Tips: UA Homecoming transportation and parking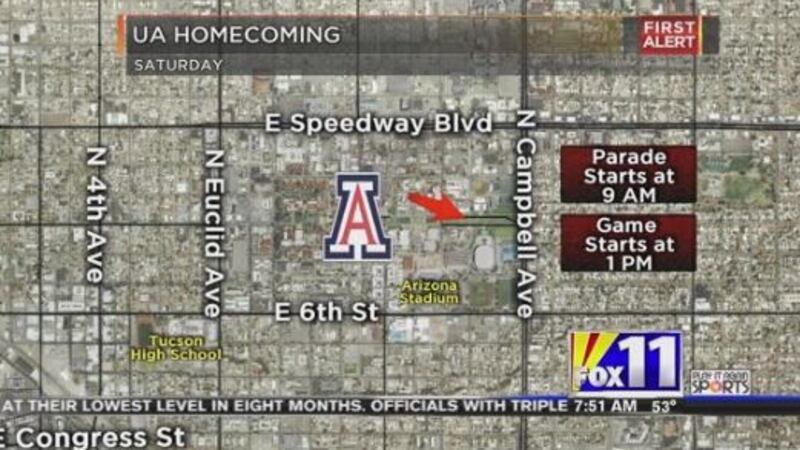 Published: Oct. 22, 2015 at 2:12 PM MST
|
Updated: Mar. 2, 2018 at 4:19 PM MST
TUCSON, AZ (Tucson News Now) - As Wildcat fans head out to the upcoming University of Arizona homecoming events Saturday, Tucson News Now has some important traffic tips to keep in mind.
Fans will run into midtown delays on Friday evening and Saturday, as game preparations commence.
The Homecoming Parade will start at 9 a.m. on Saturday, along the U of A mall. Avoid this area for the duration of the festivities. Then, the Wildcats will take on the Washington State Cougars in the afternoon. Kickoff is set for 1 p.m. on Saturday.
If travelers are not partaking in these functions, it's best to avoid the campus altogether.
This includes Speedway Boulevard between Campbell Avenue and Park Avenue, Campbell Avenue between Speedway Boulevard and Broadway Boulevard and 6th Street between Euclid Avenue and Campbell Avenue.
Wildcat fans attending the parade or the game on Saturday will have many parking options.
Here are a few things to note:
- All UA surface lots are CASH ONLY, while patrons can pay for garages with either cash or credit cards.
- Fans will have to pay $5 to park in the Tyndall Avenue, Main Gate, Park Avenue and Highland Avenue Garages. It will also be $5 to park in surface lots 1018, 2012, 2021, 2029, 2030, 2146, 2147, 2182, 3039, 7102, 7103, 7156, 7227 and 7228.
- A $10 fee will be required for the 2nd Street and 6th Street Garages, as well as The Arid Lands Marshall Lot.
- Free parking is available for carpools with four or more riders in the Tyndall Avenue, Main Gate, Park Avenue and Highland Avenue Garages on campus. This is a new policy this year.
Finally, Arizona Athletics will offer a Cat Tran shuttle from the Park Avenue Garage ($5) to Arizona Stadium on game day. Shuttle riders must show their parking permit to board the bus before and after the game.
Copyright 2015 Tucson News Now. All rights reserved.