Jury awards $47 million to families of '08 crash victims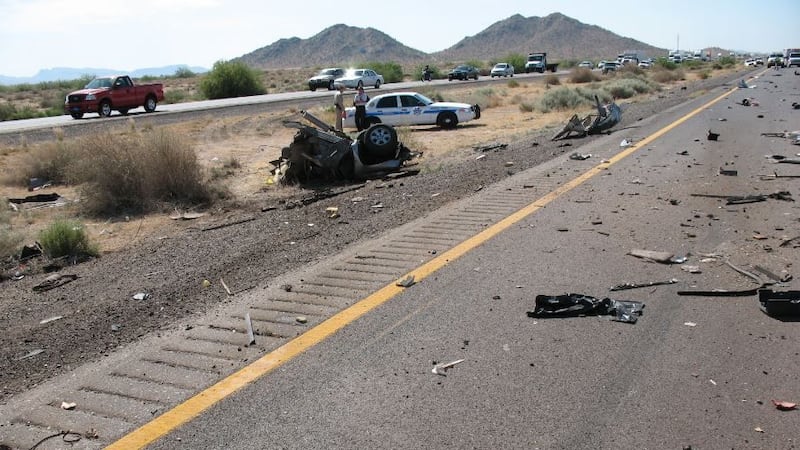 Published: Dec. 17, 2015 at 11:38 PM MST
|
Updated: Feb. 12, 2016 at 12:45 AM MST
TUCSON, AZ (Tucson News Now) - A Maricopa County jury found the state of Arizona to be mostly at fault for a roadway negligence case in which two women from Tucson died.
The families of Pamela Humphrey and Ann Quinn will receive $47 million.
Humphrey and Quinn were traveling from Tucson to Phoenix on May 18, 2008, when Humphrey swerved to avoid debris in the road. Her vehicle crossed into the median and into a tractor-trailer at Milepost 171.
Their families filed a lawsuit, claiming the state was negligent because the Arizona Department of Transportation failed to put up a barrier in this median.
Two people died in a similar accident at the same location nine months before. Their family members were awarded $7.8 million in 2012.
John Leader, the Humphrey family attorney said he knew they would win this case.
"What my clients felt mostly was vindication," Leader said. "Because shortly after this collision one of my clients made a number of attempts to work with ADOT to get median barriers put in and he sort of hit a brick wall with that. (ADOT) didn't wish to work with him."
ADOT released the following statement on Thursday:
"In an independent expert's analysis of five years of data on a segment of Interstate 10 between Phoenix and Tucson, 91 total drivers in incidents were able to stop or recover within the median, avoiding a collision and without striking a barrier or other hazard. The wide I-10 medians – 81 feet wide at the location of the crash in this most recent case – provide drivers with a safety buffer to come to a safe stop. When median barriers are installed, the opportunity for a safe stop is eliminated and the state would be sued for not maintaining nationally accepted median widths if a crash were to occur involving the median barrier."
ADOT also said they will be working with an "independent third-party organization to hire an independent engineering consulting firm to evaluate the department's median barrier guidelines and further examine the best ways to reduce fatal and serious crashes, in line with Arizona's Strategic Highway Safety Plan."
The full release can be below.
Leader said it's a disappointment this research and preventive measures were not put in place before two deadly accidents.
"Our hopes moving forward are that ADOT will address the problem and make our roads safer in terms of these cross-median crashes which, although they aren't all that common, when they do happen they're very, very bad," Leader said.
Related stories
March 1, 2012: Jury finds ADOT at fault for deadly crash, still no road fix
Feb. 3, 2014: Only on KOLD: Deadly highway

Copyright 2015 Tucson News Now. All rights reserved.