Student fee proposed for Arizona Stadium renovations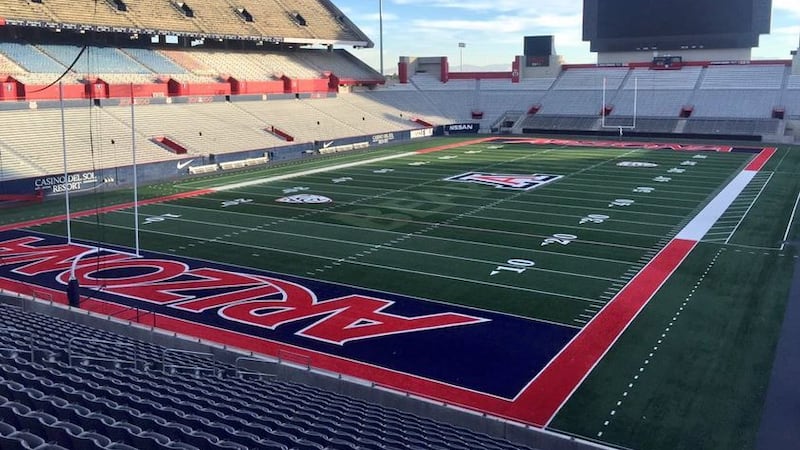 Published: Jan. 30, 2016 at 12:40 AM MST
|
Updated: Mar. 26, 2016 at 12:53 AM MST
TUCSON, AZ (Tucson News Now) - The University of Arizona Athletics Department is proposing a student fee to help pay for renovations to Arizona Stadium.
The proposed annual fee of $200 will apply to any incoming undergraduate or graduate students.
The athletic department said renovations are long overdue.
Greg Byrne, athletic director at the UA, said parts of the stadium haven't been renovated for close to 100 years.
The $150 million renovations will include everything from bathrooms, concessions, seating and infrastructure.
"It'd be nice to have a really nice bathroom. Even the concessions. You can tell the difference between the new end zone versus the ones on like the ZonaZoo side that are a little older. Run down," said students Madilynn Will and Lisa Berndt.
The athletic department hopes to raise $50 million, and will also add a fee for ticket buyers to help make up costs.
UA is only one of two schools in the Pac-12 that doesn't currently have a student fee.
"We've been very aggressive from a fundraising standpoint. The last five years we've raised over $135 million. We've been one of the top fundraising schools in the country. The reality, the size and scope that Arizona stadium represents, we cannot do it by fundraising alone," Byrne said.
But not all students are on board with the idea.
"Football is an important par, but the way the building looks isn't as important. And I think most of the fans wouldn't actually care about infrastructure as much," said student Jorge Sanchez.
Byrne said however, that the stadium provides more for the community than just sports.
"We use Arizona Stadium for commencement, we use it for different community activities as well. And so we really feel it's something worth investing in for our community so this is strong long-term," Byrne said.
This proposal is still in the early phase.
The department has been talking to undergrad and graduate student leadership.
The proposal will be presented to UA President Ann Weaver Hart and then will head to the Arizona Board of Regents for a vote.
If approved, it would apply to incoming students next fall.
Copyright 2016 Tucson News Now. All rights reserved.