Snake removal services see increase in calls due to record warm temps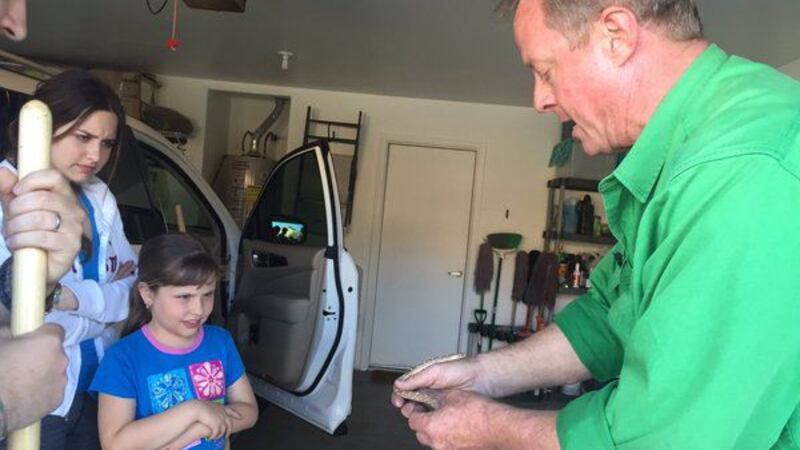 Published: Feb. 16, 2016 at 11:24 PM MST
|
Updated: Mar. 2, 2018 at 4:19 PM MST
TUCSON, AZ (Tucson News Now) - Record warm temperatures are keeping snake removal services flooded with calls.
Temperatures reached the mid 80s on Tuesday, Feb. 16, and though business owners said it's good for business, it's still surprising.
"I was talking to my partner a couple months ago and he said, 'You know, we're going to start seeing the snakes come out,'" said co-owner of Arizona Animal Experts, Inc. Marc Hammond. "He was right. I can't remember going back 30 years when its been 80 or 85 degrees right in the middle of February."
Hammond, who was responding to a call about a snake in a home near Fort Lowell and Swan Roads on Tuesday, said they're getting about two to three calls a day about snakes.
He said they usually don't start getting those calls until the end of March.
"A lot of the calls we get at this time are snakes getting out of hibernation," Hammond said. "They're cold, they're changing, they're hungry and they sometimes can be aggressive towards people.
Hammond said most of the calls right now are about snakes inside homes, garages or storage rooms.
He said snakes are more defensive than aggressive.
Hammond said rattlesnakes are deaf so they're sensitive to vibration, which is why he is warning the public to keep an ear out.
"Just getting out of your car and you stomp your feet, they're going to give you a warning," Hammond said.
Hammond said although you can't exactly snake proof your home, there are ways you can help reduce snake activity near your home.
"You can do everything possible to try to keep snakes out of your yard, but what about your neighbor?," Hammond said. "Start by making sure there's no gaps or holes or anything around by your gate area."
For more information, CLICK HERE.
Copyright 2016 Tucson News Now. All rights reserved.