Mormon temple in Tucson reaches milestone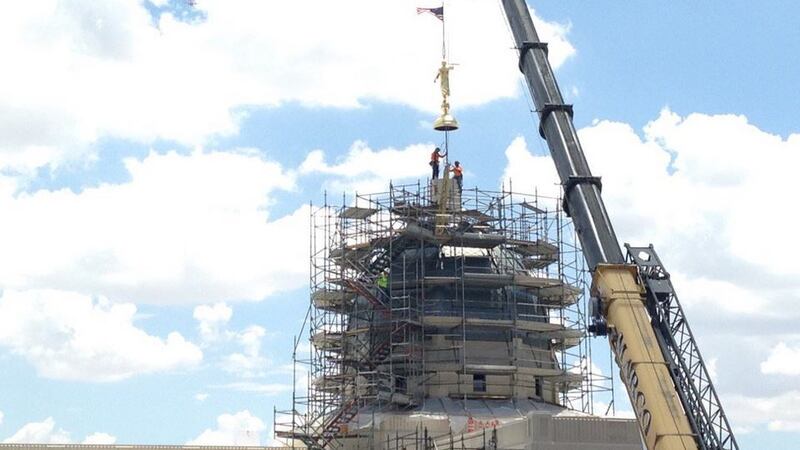 Published: Jul. 7, 2016 at 5:18 PM MST
|
Updated: Jul. 7, 2016 at 9:17 PM MST
TUCSON, AZ (Tucson News Now) - A major milestone Thursday for the Mormon temple being built here in Tucson.
Crews lifted a golden angel to be placed on top of the temple as the building at 7281 N. Skyline Drive moves closer to completion.
The angel, Moroni, sits atop most Mormon temples.
The angel holds a horn to its lips.
The Mormon Church said the pose represents the preaching of the gospel of Jesus Christ throughout the world.
He's symbolic of the founding of the Mormon faith, the Church of Jesus Christ of Latter-day Saints.
There are more than 30,000 Mormons in Tucson.
About 100 people watched as a crane placed the statue atop the temple's dome.
That moment brought singing, applause and tears.
"It's incredible. we're so excited. We've been waiting for a long time for us to have a temple here," said Dee Thompson.
In the Mormon Church the temple is a special place, with a different function from the meeting places scattered throughout the Tucson area.
For the project architect, the long-awaited moment is particularly special because she too is a member of the church.
"It's a place where people come to learn, to make promises with God. Also people are married. We do sealings together of couples," said Mandy Martineau of FFKR Architects.
"I think this a beautiful temple and I think it's just got great proportions. It's an art deco style. And I think with the dome, I think it fits into the vernacular of the Tucson area," she said.
The golden statue is nine feet tall, weighs more than 300 pounds and is covered in gold leaf.
When it's completed, this will be the only Mormon temple in the Tucson area.
So soon church members will no longer have to travel to the Phoenix area when they want to visit a temple and calmly, quietly focus on what's important to them.
   
"Family and our Father in heaven are the things that are the greatest importance. And so by being able to come monthly or perhaps even weekly, it's a way of renewing those feelings to help me to stay focused and remember and to have the peace and the comfort that brings," said Thompson.
Ground was broken for the temple in October of last year.
Construction on the temple interior and grounds continues.
It's expected the temple will be completed in 2017.
Copyright 2016 Tucson News Now. All rights reserved.