Firefighters average dozens of spice calls a month in Tucson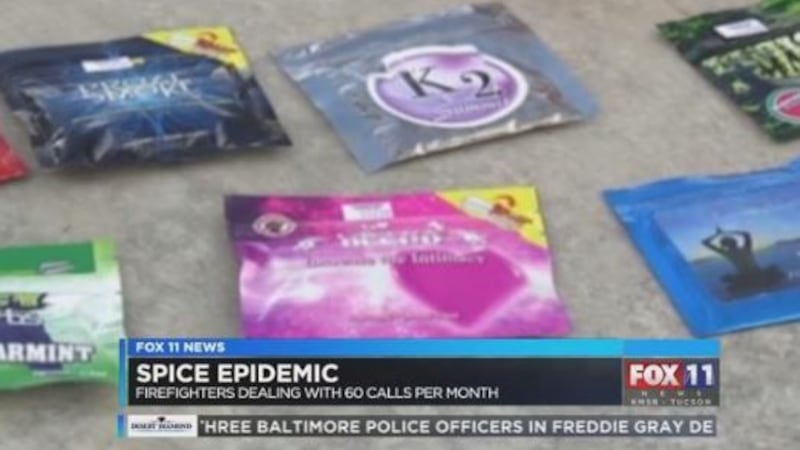 Published: Jul. 28, 2016 at 1:30 AM MST
|
Updated: Jul. 28, 2016 at 4:41 PM MST
TUCSON, AZ (Tucson News Now) - Raids on several businesses in Tucson early Wednesday morning pulled hundreds of pounds of synthetic marijuana, better known as spice, off the streets.

Multiple local, state and federal agencies assisted the Drug Enforcement Administration in carrying out similar busts across a a few states, according to the DEA.
MORE COVERAGE: Photos from the raids; Tucson part of multi-city 'Spice' investigation; 18 arrested
In Tucson, the operation may not have included the Tucson Fire Department, but firefighters and paramedics quickly learned what spice can do to the community.

"I didn't know how big it was or how much it actually affected the community," said Firefighter David Richter. "When I became a firefighter I understood it a lot more."

Richter joined TFD less than two years ago and he's already handled enough spice calls to know that each one will be different.

"When you go to a spice call you don't really know what you're going to roll up on due to the fact that there's no regulation as to what's in spice," he said. 

Richter said he's seen people slumped over and unconscious and others acting out and upset. Just like the unknown ingredients in a spice packet, firefighters don't know what they'll experience at their next call.

"It's just all around unpredictable and we have to be very cautious when we go on scene," said Richter.

Firefighters in Tucson responded to 192 calls directly related to spice since May 1, 2016. They began logging spice calls starting in May 2015 when they had experienced an average of roughly 70 calls per month.

Herbert Whitwell, who said he was addicted to heroin when he returned from service in Vietnam, said Wednesday that spice is the worst drug he's ever encountered. 

"It'll get you high but it'll leave you in a coma," he said.

Whitwell stopped using after two times being high on spice. He said the drug made him feel anxious and agitated.

News of the raids in southern Arizona is a bit of relief for Whitwell. Though he's not tempted by the drug himself, the veteran said he hopes it'll cut the supply to users in the Tucson area.

However, Whitwell said he doubts it'll be a permanent fix because manufacturers manage to change the chemical makeup of the drug and start selling it all over again.

Copyright 2016 Tucson News Now. All rights reserved.