Davis-Monthan to host Heritage Flight certification program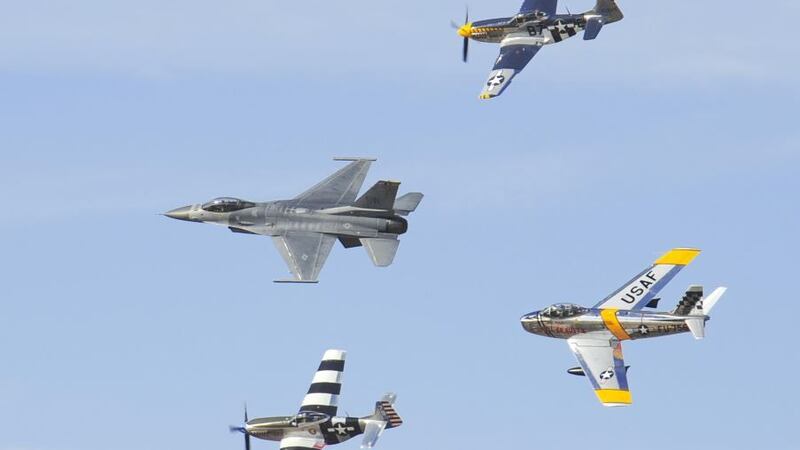 Published: Jan. 18, 2017 at 10:49 PM MST
|
Updated: Feb. 6, 2017 at 5:43 PM MST
TUCSON, AZ (Tucson News Now) - There will be some unusual aircraft flying in the skies above Tucson this February, as the Heritage Flight Training and Certification Course will take place at Davis-Monthan Air Force Base.
According to a recent D-M release, the event takes place Feb. 9 - 12, with aircraft and personnel arriving Feb. 7 and 8.
HFTCC is attended by civilian pilots (in historic aircraft) and Air Force pilots in current fighter aircraft. The two groups practice flying in formation together to receive their certification to participate in Heritage Flight events. Heritage flights, at airshows across the U.S., help raise public awareness of the Air Force mission and to commemorate its history.
The following aircraft will soon fly in the skies over Tucson during the 2017 Heritage Flight Training Conference: Two F-22 Raptors, three F-16 Fighting Falcons, two F-35 Lightning IIs, six P-51 Mustangs, one T-51 Mustang, one P-38 Lightning, one P-40 Warhawk, one P-47 Thunderbolt, two F-86 Sabres, and one T-33 Shooting Star.
Copyright 2017 Tucson News Now. All rights reserved.
MOBILE USERS: Download our app, the most-used news app in southern Arizona, to get breaking news alerts, weather forecasts and exclusive content on your Apple and Android devices.