Push from Tucson community aims at helping southern AZ kids battling cancer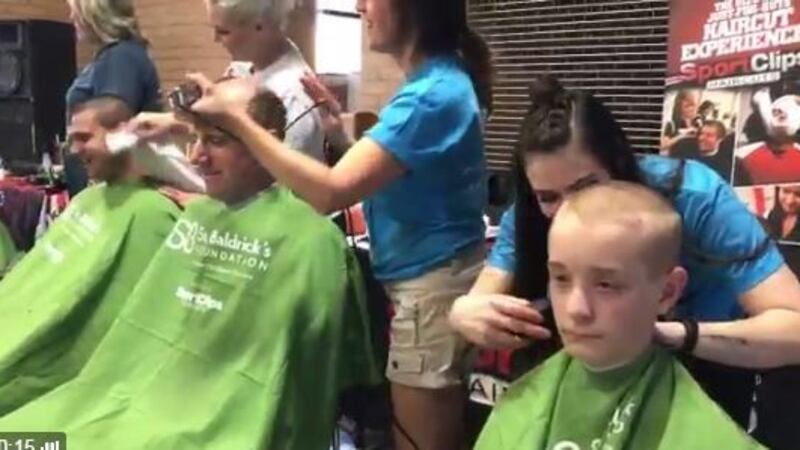 Published: Mar. 11, 2017 at 2:12 AM MST
|
Updated: Mar. 2, 2018 at 11:20 AM MST
TUCSON, AZ (Tucson News Now) - There's a big push from the Tucson community to help some southern Arizona kids who are fighting cancer.
Two events held Friday, March 10, shed a light on the impact childhood cancer can have on families.
Mountain View High School teamed up with the St. Baldrick's Foundation, a foundation that raises money for childhood cancer research, and held one of the foundation's signature head-shaving event at the school's cafeteria.
More than 15 local volunteers, including officers with the Marana Police Department, shaved their heads to support the foundation's mission. The group set a goal to raise $8,000.
"Every two minutes a child is diagnosed with cancer; one in five children will not survive," said the foundation in a recent press release. "Those who do survive often suffer long-term effects from treatment too harsh for their developing bodies. Donations raised at events like this support the development of childhood cancer treatments that are as unique as every kid."
To learn more about the St. Baldrick's Foundation, CLICK HERE.
The group is also planning several other events where people can learn more about the foundation and donate such as their "Dine To Donate" night, which is scheduled for Wednesday, March 15 at the Dickey's Barbecue Pit, located at 7707 North Thornydale Road.
A second "Dine to Donate" is scheduled for Saturday, April 1 at Boston's Restaurant & Sports Bar, located at 5825 West Arizona Pavilions Drive from 12 p.m. to 4 p.m.
Meanwhile, on Tucson's east side, the Tucson Country Day School (TCSD) held a late night raffle at a restaurant on Broadway Boulevard and South Camino Seco, to help raise money for one of the school's 7th graders, Hannah Way. Way is a 13-year-old battling stage 4 Lymphoma.
"I'm humbled by all of the people willing to help Hannah or to help any cancer patient ," said TCSD's community relations director Sarah McKeown. "We're honest and we told the story of who Hannah was and right away, pretty much everywhere we went, they were very willing to help."
Way was diagnosed at 12 years old, on August 1, 2016 with stage 4 B-lymphoblastic NHL lymphoma. She's currently receiving treatment at Phoenix Children's Hospital.
You can read more about Hannah Way's story on her Facebook page. facebook.com/TeamHannahWay
If you wish to donate to Hannah Way's cause, CLICK HERE.
Copyright 2017 Tucson News Now. All rights reserved.
MOBILE USERS: Download our app, the most-used news app in southern Arizona, to get breaking news alerts, weather forecasts and exclusive content on your Apple and Android devices.