Group wants to pull plug on TEP rate proposal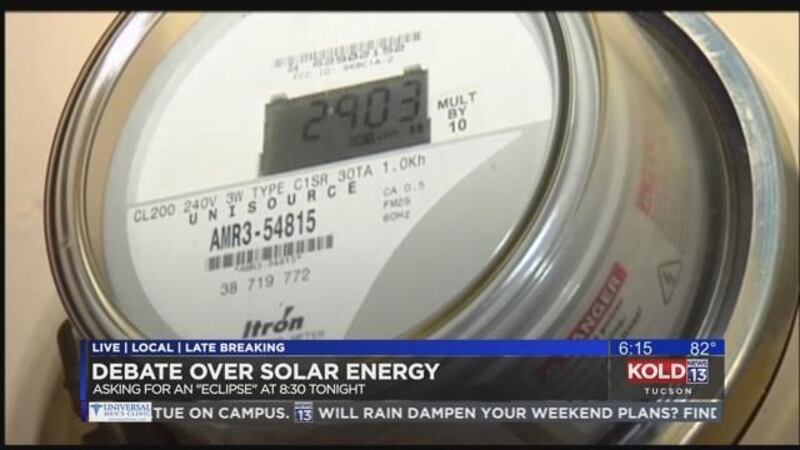 Updated: Aug. 30, 2017 at 12:44 PM MST
TUCSON, AZ (Tucson News Now) - Solar supporters want the city to go dark in response to a new rate proposal by Tucson Electric Power.
TEP submitted the proposal to the Arizona Corporation Commission - asking for revised rates for new solar customers.
People opposing the measure claim it's TEP's way of taxing the sun. That's because, according to their numbers, new solar customers will pay up to $30 extra every month.
"They're OK having solar power as long as they can tax the sun," said Victoria Steele, solar activist.
The group will hold a candlelight vigil at the intersection of Congress and Granada Avenue on Wednesday night, Aug. 30.
The organizers are also asking people who support solar energy to turn off their lights at 8:30 p.m. for 30 minutes.
Meanwhile, TEP is defending itself, saying it's not trying to cast shadows. The proposal, according to TEP, will allow for fair rates for all of its customers while still allowing new solar customers to save long-term.
"These new rates would do a better job of recovering service costs from customers with new roof-top solar systems and they would be more fair for all of our customers," said Joseph Barrios, TEP spokesman.
TEP said it expects the ACC to make a decision on the proposal later this year. If approved, the corporation will then decide when the new rates will go into effect.
MOBILE USERS: Download the Tucson News Now app for Apple and Android devices.
Copyright 2017 Tucson News Now. All rights reserved.