Community donations help fund Tucson's largest mural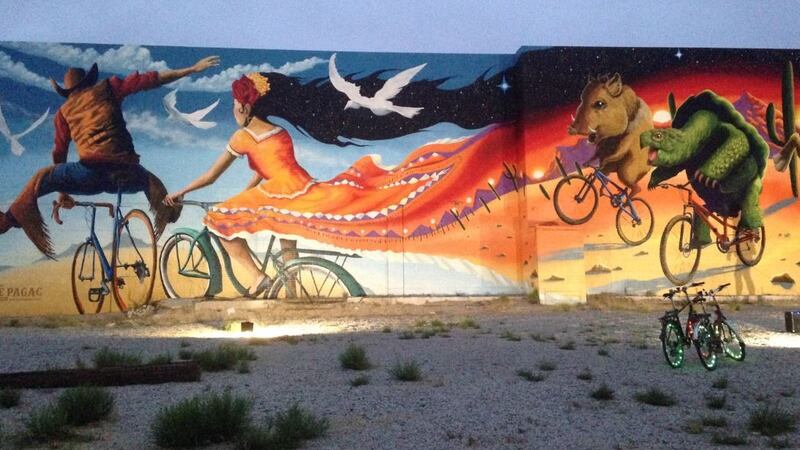 Published: Nov. 8, 2017 at 12:52 AM MST
|
Updated: Mar. 2, 2018 at 11:15 AM MST
TUCSON, AZ (Tucson News Now) - Tucson's largest mural was officially unveiled at a ceremony in downtown on Tuesday night.
The painting is more than 4,000 square feet in size. It's painted on the wall of the Epic Rides building on the corner of Stone and 6th.
The community helped the artist, Joe Pagac, raise more than $20,000 to turn his dream into a reality.
"It's really an honor to create something like this for the community," Pagac said.
Armed with 30 gallons of spray paint, Pagac spent months atop a cherry picker, transforming a blank wall into a Sonoran desert-style mural.
"It's gorgeous. Seeing things like this popping up over the last decade, these murals, all the colors, I think it's really reviving the town," local cyclist, Candice Eaton said.
"It's so Tucson," said Mayor Jonathan Rothschild.
Pagac said he wanted to promote the city as a cycling community. He also wanted to show off the Sonoran desert and incorporate the cowboy and Mexican
heritage. But Pagac had to get creative to avoid painting during the scorching summer heat.
"I would get up at midnight and come down here and just work through the night and once the sun was up I had six gallons of water that I brought everyday
and just dumped water all over me,"  Pagac said.
As he was nearly finished with the project, there was a disappointing set back. Someone vandalized his mural.
"Because they crossed my name out and put their name, it's like a direct assault on me more than just a regular tagging," Pagac said.
Pagac painted back over it. He now hopes to inspire other artists to keep working to beautify our city.
"I really just want people to get away from their phones for two seconds and look up and have bright color around them and have them smile," Pagac said.
For more information click here: http://www.joepagac.com
MOBILE USERS: Download our app on your Apple and Android devices.
Copyright 2017 Tucson News Now. All rights reserved.