TPD, TFD create PSAs to combat pedestrian deaths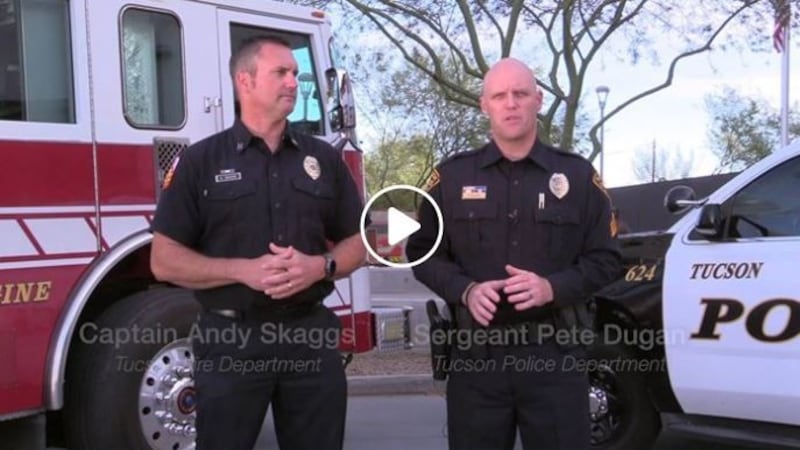 Updated: Nov. 20, 2017 at 9:15 PM MST
TUCSON, AZ (Tucson News Now) - The Tucson Police Department and Tucson Fire Department have released four Public Service Announcements urging motorists and pedestrians to review the fundamentals of driving safely.
The PSAs are in response the spike in pedestrians deaths in Tucson in 2017.
So far this year, 24 people have been killed crossing Tucson's streets. In 2016, it was 11.
The spike in deaths has caught the attention of the community as well as local police and fire organizations.
Tucson's Living Streets Alliance, whose mission is to protect pedestrians, issued a statement urging action and suggestions as to what the departments should do to mitigate the problem.
PAC_Protected Left Turn Letter_10.23.17 by Tucson News Now on Scribd
The PSAs, which will show on local broadcast stations and online, feature Richard Parker, whose brother was one of the 24 pedestrians killed this year.
"Now that he's gone, I miss him so much," he said. "I want to get him back but I can't."
53-year-old James Parker was hit by a truck and killed in August.
"Somebody's not paying attention," Parker said. "In one second, your life could change."
Or end, as the police are reminding the public.
Tucson police will select various streets and street corners over the next year for enforcement. They will be at some of the high traffic and high volume areas where there have been accidents involving pedestrians in the past.
While police say the value of the PSAs is to educate, they will hand out citations and warnings in the targeted areas.
Whether the pedestrian or the driver gets a ticket or a warning will be at the discretion of the officer.
The patrols, according to Chris Hawkins, are being funded by a gr ant from the Arizona Governor's Office of Highway Safety.
MOBILE USERS: Download our app on your Apple and Android devices.
Copyright 2017 Tucson News Now. All rights reserved.