20-story office, retail project proposed for downtown Tucson
Published: Jan. 23, 2018 at 9:22 PM MST
|
Updated: Jan. 24, 2018 at 5:08 AM MST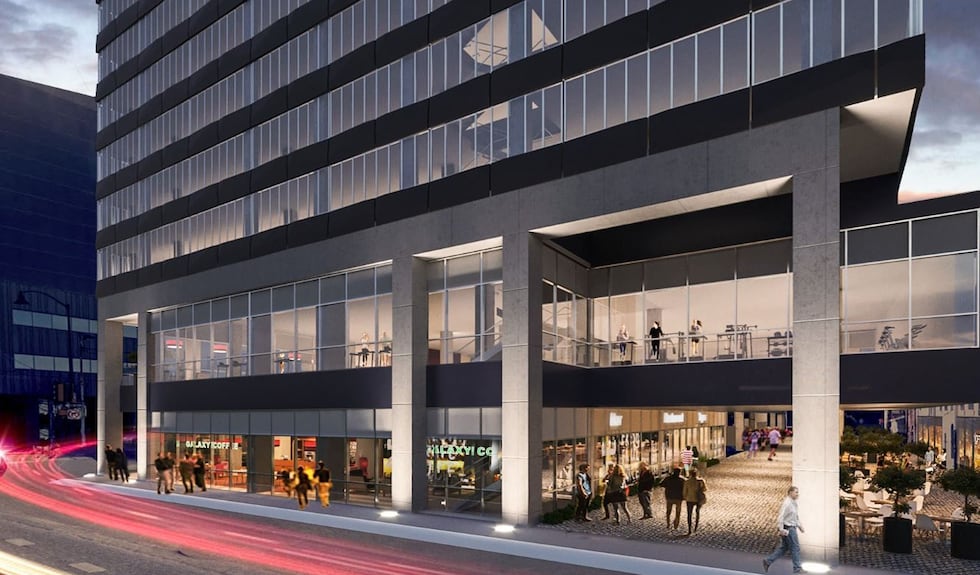 TUCSON, AZ (Tucson News Now) - At a meeting on Tuesday, Jan. 23 the Rio Nuevo Board announced that it is in negotiation for the potential development of the corner of Broadway and Sixth Avenue. In conjunction with Pima County, the current owner of the site, Rio Nuevo had issued a public RFP for development of the parking lot on the north side of Broadway, between Scott and Sixth Avenue, on the modern streetcar line.
The highest ranked proposal was submitted by a team headed by JE Dunn Construction, and contemplates the construction of a 250,000-square foot, high-rise office project and parking garage, in a project to be known as "75 Broadway".
The Rio Nuevo Board voted unanimously to negotiate a development agreement which could be completed within the next 30 days.
"This is the kind of project you'd see in Dallas or Austin, Kansas City, Portland, San Diego," said Rio Nuevo Board Chair Fletcher McCusker. "Tucson is not known for this kind of scale.
Project Director Todd Freed said the site is well suited for development.
"This piece of property is dead set in the middle of the city, lots of activity around it" he said. "The tram going right in front of it, a stop across the street, we think it's a fantastic location."
According to Freed, there is 400,000 to 500,000 square feet of interest in downtown office space which means "for the first time we'll be able to network corporations around the country."
He says much of the interest has been generated since Rio Nuevo announced that Caterpillar Surface Mining Operations was coming to Tucson.
Rio Nuevo is building a nearly $50 million headquarters which will then be leased back to the Fortune 50 company.
"The corporations that support Caterpillar, some of the engineering companies for Caterpillar, will consider this as a possible location," he said.
If Rio Nuevo and the JE Dunn team reach an agreement based upon this proposal, the block could become the site of the largest speculative office building developed in Tucson in more than three decades. JE Dunn, a national builder with headquarters in Kansas City, Missouri, in association with Bog Creek Development, has proposed construction of a 20-story high-rise, featuring 25,000-square-foot floor plates, Class "A" finishes, floor-to-ceiling window walls, and outdoor terraces on both the 10th and 20th floors, all constructed over a 500-car parking garage. The ground levels will feature entertainment and retail space, plus an outdoor dining area.
Designed by Swaim and Associates Architects, the building would combine green features such as passive solar design and LED lighting with the modern architectural features necessary to achieve true "Class A" status. Office floors would start on the tenth level, providing every tenant with mountain views. On the 20th floor, an outdoor rooftop terrace would provide a unique setting for a variety of events.
Downtown developers Marcel Dabdoub and Ron Schwabe would partner with JE Dunn to make the entire city block a new hub for downtown office and retail tenants. Dabdoub and Schwabe are already redeveloping the Congress side of that block, including the Chicago Store, Gus Taylor, and the former Grill and Wig-O-Rama spaces, and will be developing and leasing approximately 40,000 feet of new retail space on the project's lower floors.
"By controlling the entire block, we can create a very unique retail experience." said Dabdoub, in a recent news release. "Imagine a dine-in movie theater, large retailer, karaoke bar, one-of-a-kind bookstore, craft brewery, premium coffee shop, ceramic store, high-intensity fitness center, class A office and perhaps some residential units all in one block in the heart of Downtown Tucson," he added. "Now imagine a 50-foot-tall covered pedestrian retail breezeway that cuts through the middle of the block with storefronts along both sides facing each other." Schwabe agreed, adding "We can bring together enough variety of uses to make this block a true retail destination".
David Volk with CBRE's Tucson office would be marketing the ten floors of office space. "For years, the lack of larger floorplates has kept some of the most desirable corporate users from opening offices in Tucson" said Volk. Although floors can be subdivided for smaller tenants, "the building design allows larger tenants to have their people on one floor. The higher-paying jobs we are trying to bring to Tucson are often provided by the very firms that 75 Broadway is designed to attract.This new office space will be a game-changer for Tucson, providing the city with the Class A office space needed to attract tech, engineering, life sciences and mining companies, as well as providing room for growing Tucson firms" said Volk.
Rio Nuevo Board Chair Fletcher McCusker agreed. "To attract the type of users we are trying to bring to our newly revived downtown, we need space to house those companies. Now that Downtown has been established as a desirable place to live and work, providing office space for the new companies we are attracting is essential". Rio Nuevo, in cooperation with Pima County and the City of Tucson, is currently working to negotiate a final agreement that would include a package of incentives to help make the development possible.
Downtown was the hottest office submarket in Tucson in 2017. The office vacancy rate has fallen from over 30 percent a little over three years ago to a year-end number of just 14 percent, according to CBRE research.
In the next two years, Downtown is expected to see over 1,000 new hotel rooms, over 1,000 new jobs, and over 1,000 new residential units built. "75 Broadway" will add room for over 1,250 more Downtown workers.
JE Dunn has long-standing roots in Tucson, recently completing several projects for Tucson Medical Center. According to JE Dunn Project Executive Todd Freed, who would oversee construction of the tower, "We have been active in Tucson for over 15 years, and would like to continue our tradition of delivering projects with impact. We are eager to be part of the excitement of Downtown" said Freed. "The timing is right, and with the support of the City of Tucson, Pima County and Rio Nuevo, we want to continue bringing high-paying jobs to the heart of Downtown".
WANT MORE? Download the Tucson News Now app for Apple and Android devices.
Copyright 2018 Tucson News Now. All rights reserved.