University of Arizona Gymcats show support for sexual assault victims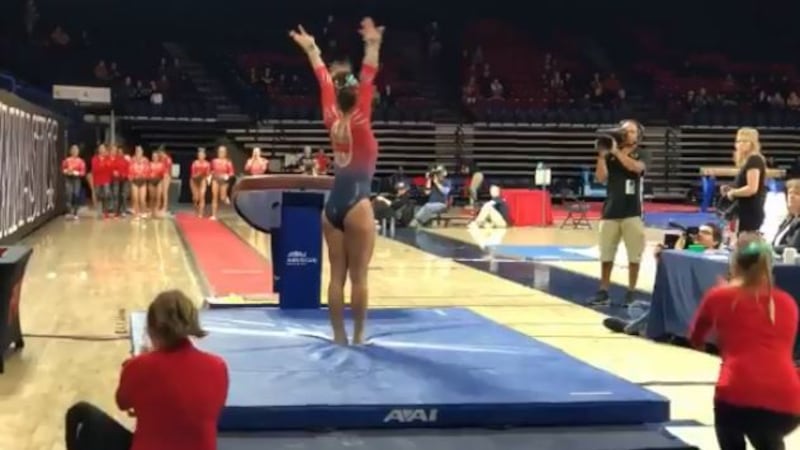 Updated: Jan. 26, 2018 at 9:43 PM MST
TUCSON, AZ (Tucson News Now) - Among the red, white and blue of the University of Arizona Gymcats leotards Friday night, there was a pop of teal.
"The teal ribbons in our hair are to support people and women that have been sexually assaulted," said Kennady Schneider, a senior on the team.
It's been an emotional week for Schneider and her teammates.
They've been have been following Larry Nassar's sentencing hearing closely.
"It breaks my heart to hear stories of these girls and what they go through and all you can do at this point is stand behind them," Schneider said.
As 156 women spoke out against the former USA gymnastics and Michigan State University doctor, Schneider said she couldn't help but feel connected to these women she's never met.
"It's a very tight knit family. We're all like sisters. And we all support each other. Just to see this happen within our sport has been devastating," she said.
The Gymcats decided on the ribbons as their way of standing behind the women.
When they came out for their meet on Friday, they were surprised to find their completion had done the same.
"Just to see we're all here for the same reason and supporting the same thing was really special tonight," Schneider said.
A small, subtle way to make a strong statement.
Nassar was sentenced this week and will spend the rest of his life behind bars.
Schneider said however, their work is not finished.
"Even though the testimony is wrapped up this campaign and our right is not over," Schneider said. "We're going to be standing up for this and letting our voices be heard as women and as female athletes for as long as we can."
WANT MORE? Download the Tucson News Now app for Apple and Android devices.
Copyright 2018 Tucson News Now. All rights reserved.