Gov. Ducey talks education funding, school safety during luncheon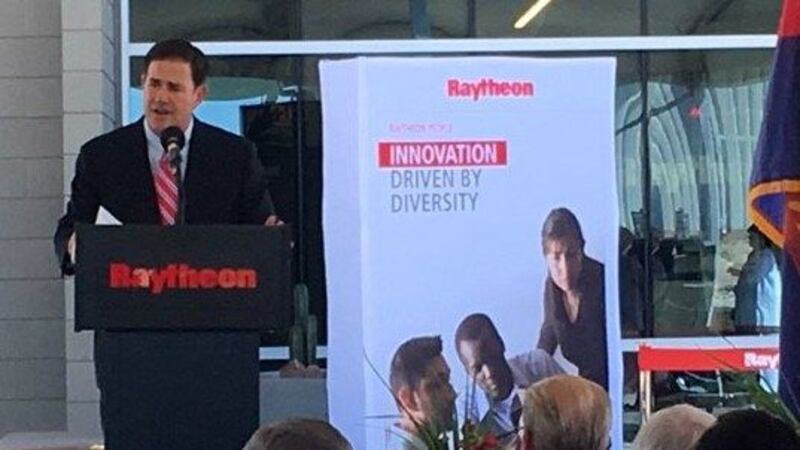 Updated: May. 10, 2018 at 5:56 PM MST
TUCSON, AZ (Tucson News Now) - Gov. Doug Ducey, in Tucson to address the annual Hispanic Chamber of Commerce luncheon, hailed the legislative session as likely one of the most significant ever.
In part, because of the agreements on education funding.
According to a plan touted by Ducey and passed into the state budget, teachers are slated to get a nearly 20 percent raise over the next three years.
But they are not guaranteed. It will be up to each district to decide whether the raises will be higher or lower the estimate.
During a question-and-answer session, the Governor said the plan he proposed was the one lawmakers passed weeks later.
He said he believes the teacher walkouts were avoidable because he already had a plan on the table.
"There was a union out there saying you can't trust this governor, you can't trust the legislature," Ducey said. "If you don't shut down the schools and march on the capitol, they'll never pass this."
Ducey said the intent was there before the walkout.
But District 2 Democrat, Daniel Hernandez, who was also in the audience, disagrees.
"Absolutely no way in heck this increase in teacher funding would have happened without the teachers starting the #REDforED movement." he said.
Ducey also reiterated his opposition to an initiative teachers are trying to gather enough signatures to be included on the November ballot.
The movement needs 150,642 valid signatures by July 5 to qualify.
The initiative would tax the states top 1 percent income earners to pay for education funding.
"Basically, I will say to simplify it, it's a California-style tax initiative," Ducey said.
When asked what he meant by that, the Governor said its intent is to split the successful business community against everyone else.
The Governor said he was also disappointed to learn TUSD is already considering whether to use its funding solely for education or whether to spread it around for other needs as well.
Ducey said the cost shifting done by the state legislature does not constitute a tax increase.
The state budget, which he signed, shifts $16 million in desegregation funding back to taxpayers in TUSD. That will cost nearly 100,000 homeowners an extra $250 per hundred assessed valuation.
Some see that as a tax increase imposed by the state. But Ducey said that's an issue taxpayers need to take up with their local lawmakers.
School safety, which had some momentum going into the legislature session, lost its momentum and no new legislation was passed.
Ducey hinted lawmakers may be called back into special session to deal with school safety issues.
"That's TBD," he said.
Copyright 2018 Tucson News Now. All rights reserved.