LISTEN: Bail hearing for accused shooter Roy King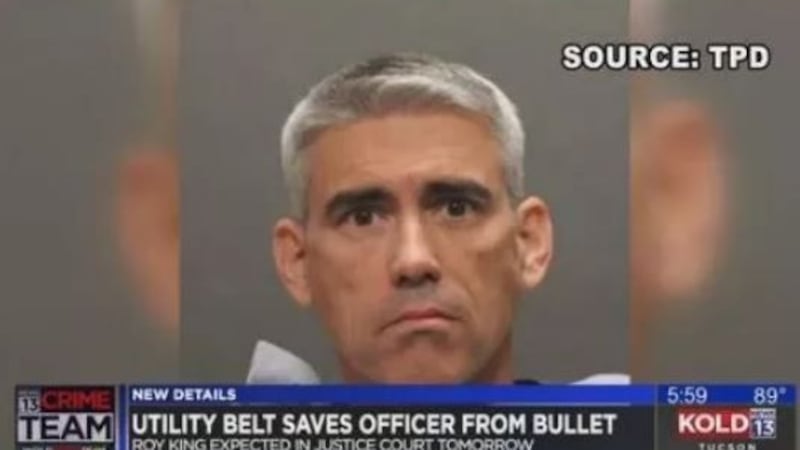 Published: May. 26, 2018 at 2:23 AM MST
|
Updated: Jun. 8, 2018 at 11:49 AM MST
TUCSON, AZ (Tucson News Now) - The Tucson Police Officer's Association said its furious the man accused of shooting at officers was able to leave jail on a bond of $7,500.
Roy King only had to pay $750.
The Tucson Police Department said King shot at officers outside a home on Hermosa Hills Place May 18.
Officers were searching for King following a situation at an east side bar, where he allegedly threatened his stepson and stepson's friend with a handgun.
As the officers approached the home, King alleged fired several shots. One officer was hit by a bullet, but it was stopped by his belt. King has said he thought someone was trying to steal his car and did not know they were officers.
Tucson News Now got a copy of the audio recording from inside the courtroom during King's bond hearing.
The prosecution recommended a bond of $100,000. The defense, however, recommended a much lower amount.
"Has the court taken into account the fact that Mr. King has absolutely no prior felony criminal history? No arrests. No convictions. He has a verified history of 30 years here in the community. His wife – I don't know if she is one of the ones present – she confirmed at pretrial services that he has a full-time job here in the community and that she can provide him with housing and is willing to take third-party custody," said the defense attorney.
Judge Michael Pollard agreed, despite saying he did think King posed a danger to the community based on the circumstances.
A bond of $7,500 dollars was set and King only had to come up with 10 percent.
"If you can post $750 you can be released," Pollard said.
The prosecution stayed silent, despite asking for a bond almost 10 times more than what was set.
We asked the Pima Attorney's Office why they fought for a higher bond.
"His [the prosecutors] silence does not mean there was no opposition," Thomas Weaver with the attorney's office said in an email. "The written recommendation is the manner in which we typically address the court."
We also asked if a prosecutor is able to speak up and object to a bond amount.
Weaver said "it's up to the judge, but yes I think either party can be heard further if they have additional information to present."
The TPOA said this decision has made them furious.
"We've never been through something where a suspect of assaulting one of our officers or shooting one of our officers has been given such a low bond. If we need to start showing up to those initial hearings, then that's what we're going to have to do," said Jobe Dickinson with TPOA.
King is due back in court May 29.
Copyright 2018 Tucson News Now. All rights reserved.