UPDATE: UA student who contracted rare disease overseas is returning home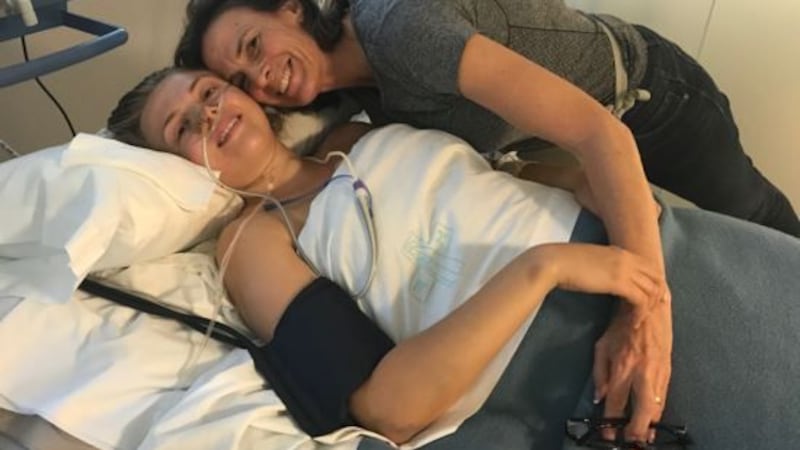 Published: Jun. 10, 2018 at 11:59 PM MST
|
Updated: Jun. 13, 2018 at 3:41 PM MST
TUCSON, AZ (Tucson News Now) - U of A student, Kara Dunn, who got sick while abroad, will be coming home according to her GoFundMe page.  Her flight home will be covered by insurance.
According to her friend Sarah Schwyhart - while Kara is still paralyzed from the waist down, she is awake, breathing on her own and talking a bit.
While her flight is covered, according to the GoFundMe page, her family is still in need of assistance on medical bills.
Previous story:
A University of Arizona student is fighting a life-threatening illness abroad as her friends and family are working to bring her back home.
Kara Dunn, a soon-to-be junior physiology student in the UA Honors College, was three days into her summer vacation in Spain when she was suffered a sudden paralysis and was rushed to the hospital with a rare autoimmune disorder.
Kara's college roommate, Sarah Schwyhart, remembers the first message she received of the news.
"I mean, I didn't think she was going to make it. Which is hard. Because she's my best friend. Not just a roommate," Schwyhart said.
In a posting on the GoFundMe page set up for Kara, her brother stated that the onset of the disorder was surprising and quick.
"Just the night before, Kara started feeling ill and had tingling sensations in her hands and face. She decided to sleep it off but woke up the next morning unable to move. At the hospital, she was sedated and intubated for severe pneumonia, which further complicated her condition," Ryan Dunn stated.
Her friends were stunned to learn what had gone wrong.
"We just started researching literally everything we could find about it on the internet, which was great and also really scary," said Rachel Schwyhart, Sarah's twin and Kara's friend.
It's scary because it's rare and there's no cure.
The disorder is known as Guillain-Barré Syndrome, where your body's immune system attacks your nerves, according to the Mayo Clinic.
The syndrome is rare, afflicting only about one person in 100,000, with fewer than 20,000 cases per year, according to the National Institute of Neurological Disorders and Stroke.
"Weakness and tingling in your extremities are usually the first symptoms. These sensations can quickly spread, eventually paralyzing your whole body. In its most severe form Guillain-Barre syndrome is a medical emergency. Most people with the condition must be hospitalized to receive treatment," the Mayo Clinic web page explains.
"Honestly, I think the first thing was shock. We, absolutely, could not believe what is happening," said Kara's friend and classmate, Jessica Kirkham. "We felt absolutely helpless. We're like, 'She's on the other side of the world. We have no idea how we're going to help her.' We were so far. We were aching for the family. We're aching for ourselves and our friends. It was brutal."
Kara's brother and mother are reportedly in Spain to give her the support by her bedside. They said they are working to bring her back to Arizona for continued treatment in the next few weeks.
Kara's friends explained that her medical insurance will cover much of the treatment but won't cover the medical transport and emergency support aid needed to get her safely to the United States.
Sarah Schwyhart is doing what she can here at home.
"She's made progress every day. Small steps. It's really great to know that she's getting better and that people are caring and supporting her and helping her get better," Sarah said. "So that's what makes me feel very excited about the future for her."
Support Kara Dunn on GoFundMe: CLICK HERE
Copyright 2018 Tucson News Now. All rights reserved.